RIF Holds Consultative Workshop to Inform Research Agenda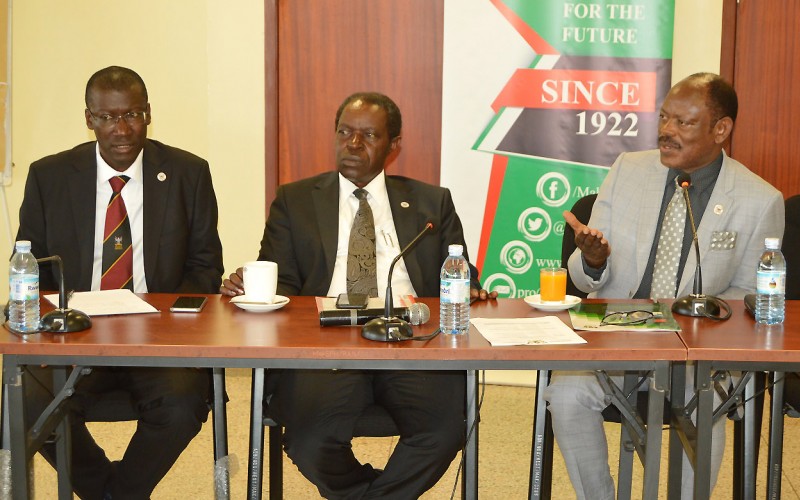 On Friday 10th January 2020, the Makerere University Research and Innovations Fund (RIF) held a consultative workshop for representatives from Government Ministries, Departments and Agencies (MDAs) aimed at understanding priority research and innovation needs in the different sectors so as to develop a robust research agenda. The resulting agenda will help researchers to include new perspectives in research, restructure their processes and produce research that resolves community challenges.
Addressing the consultative workshop, the Chairperson RIF Grants Management Committee (GMC), Prof. William Bazeyo said that the priority areas identified by participants would form the basis for the next RIF Grant Call for Applications due mid-January 2020.
"Our objective as RIF is to support research and innovation initiatives that contribute to better delivery of National Development initiatives, guided by the key national and sector-specific development plans and global priorities. We therefore thank you all for coming today and we look forward to receiving your input so as to enhance the delivery of our goal" remarked Prof. Bazeyo.
The Chairperson GMC who is the Acting Deputy Vice Chancellor (Finance & Administration) thanked the Government for utilizing the extensive skills and experience amassed by Makerere University's academia over the decades to find solutions to national development challenges. "Through RIF, we shall increase the local generation of translatable research and scalable innovations that address key gaps required to drive Uganda's development agenda."
The Vice Chancellor, Prof. Barnabas Nawangwe in his remarks thanked the Government of Uganda for committing to support research and innovations at Makerere University. "RIF demonstrates the increasing importance that the Government attaches to our research and innovations as a catalyst to Uganda's transformation into middle-income status."
He added that whereas there was no shortage of research and innovations from staff, commercialisation and patenting of the products remained an unfunded priority. "We are therefore recommending that the next release of funding for RIF should allocate money for commerialisation and patenting of already existing products such as our solar irrigation pump and others."
Prof. Nawangwe shared that whereas the first stakeholders consultative meeting had targeted Government MDAs, the subsequent one would target the private sector and civil society organisations.
"Our past experience with the Innovation Systems and Clusters Programme-Uganda (ISCP-U) shows that a triple helix approach that brings on board the Government, Academia and Private Sector is an effective way of transforming our Small and Medium Enterprises (SMEs). For example, the Katwe Metal Fabricators cluster was able to work with our Professors and improve their production to the extent that they now export inverters and generators to South Sudan and Eastern Democratic Republic of Congo" explained the Vice Chancellor.
Contributing to the day's discussion, the Executive Director, Uganda Bureau of Statistics (UBOS), Dr. Chris Ndatira Mukiza shared that his institution has a lot data that researchers can come together and mine. "We are open to collaborations with universities so as to turn this data into useful information that can move our country forward."
The Stakeholders workshop was also attended by staff from the; College of Agricultural and Environmental Sciences (CAES), College of Business and Management Sciences (CoBAMS), College of Computing and Information Sciences (CoCIS), College of Education and External Studies (CEES), College of Engineering, Design, Art and Technology (CEDAT), College of Humanities and Social Sciences (CHUSS), College of Natural Sciences (CoNAS) and the College of Veterinary Medicine, Animal Resources and Biosecurity (CoVAB).
Article by Public Relations Office