Digitalizing Academic Records and Processes at Makerere University to improve and ease service delivery
"Any University can only be successful if they can account for their students years after" Prof. Nawangwe said.
On Tuesday September 26th, 2023, Prof. Barnabas Nawangwe, Makerere University's Vice Chancellor commissioned a modern registry records storage facility at Makerere University Senate Building. This is a project being implemented as a multiyear project by the Department of the Academic Registrar at Makerere University with funding from the Government of the Republic of Uganda through Makerere University Research and Innovations Fund (Mak-RIF). The Project code named Digitalizing Academic Records and Processes (DARP) is aimed at preserving Makerere University's historic records, improve management of records and processes and service delivery at Makerere University. The main objective of the DARP project is to move Makerere University operations from analog to digital processes. This project also benefited from funding from the MasterCard Foundation.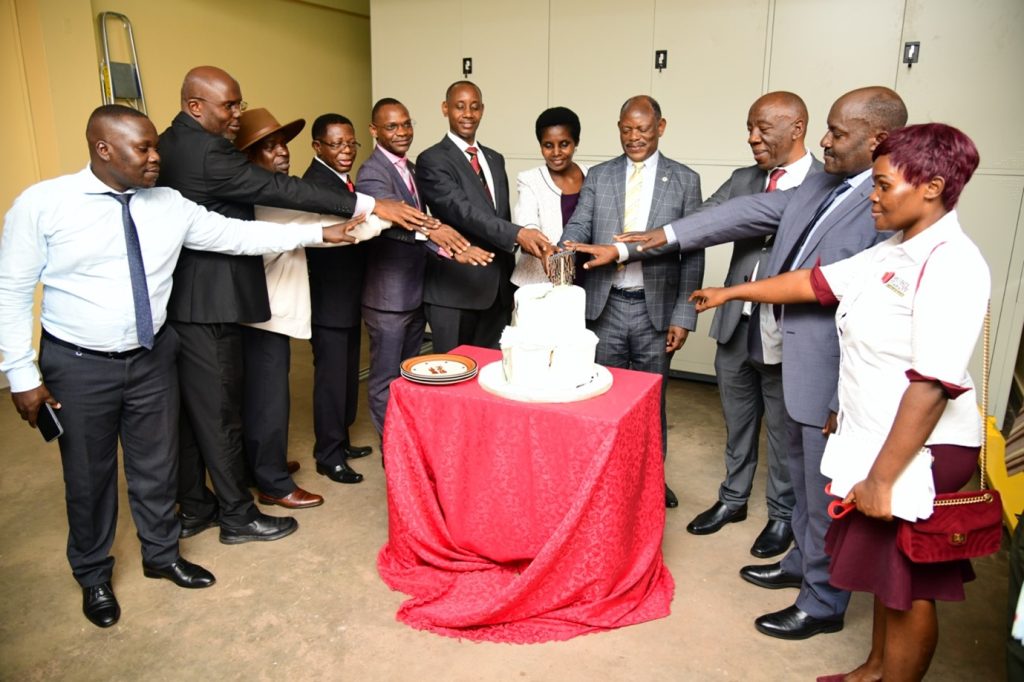 During commissioning of the modern registry facility at Makerere University, Prof. Buyinza Mukadasi, Makerere University's Academic Registrar welcomed all participants noting that we had gathered for yet another important activity as a result of both the hard work of the project team and funding from the Government of the Republic of Uganda. He thanked the project team highlighting the Principal Investigator, Mrs. Patience Mushengyezi for a task well implemented. He also thanked the Government of the Republic of Uganda for funding research and innovations at Makerere University noting that many of the funded projects had registered impact in the communities with spill over benefits to other institutions, organizations and agencies. "Digital is the way to go, let us all embrace this approach and even look for more resources to support this project to scale and of importance to other institutions, organizations and companies" Prof. Buyinza said.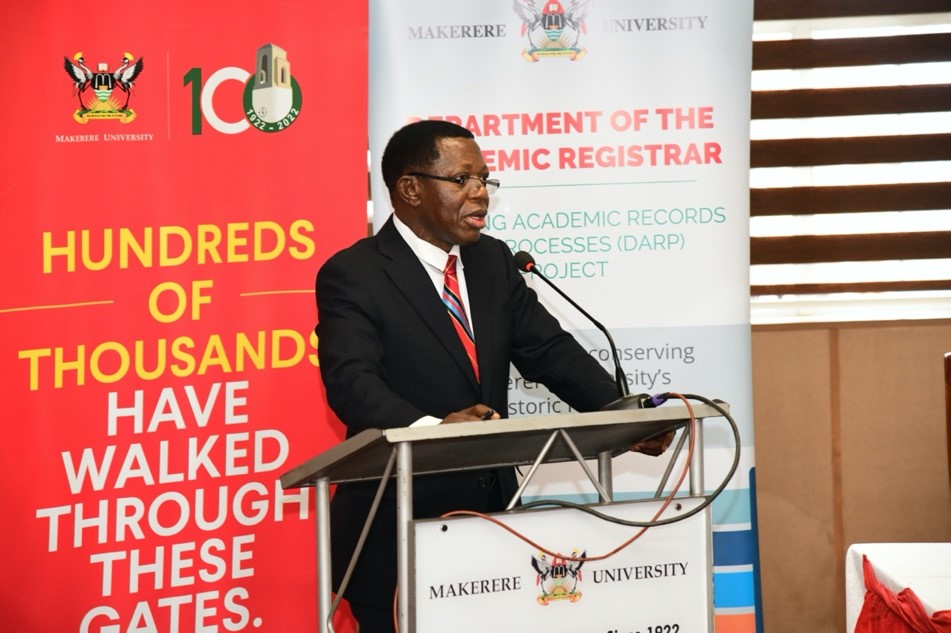 Prof. Fred Masagazi Masaazi, the Mak-RIF Grants Management Committee Chairperson noted that given the strides the project has made to-date, the DARP project merits funding, merits to be a Needs-Based funded project identified and referred for funding by the University Management (not through the Request for Applications outlet), and it merits value for money overall. He also said that the DARP project is one of the 1,060 multidisciplinary research and innovation projects currently being funded by the Government of the Republic of Uganda through Mak-RIF. He added that these projects are all from the science, humanities, academic and administrative units of Makerere University. He shared that as a result of the ongoing research and innovation work, a big number of policy and knowledge briefs had been developed and shared, evidence provided to those who are looking for it in form of data for reference purposes, several government ministries had reached out to Mak-RIF expressing gratitude for the diverse information being shared among other achievements. He said "Vice Chancellor sir and your University Management team, I must share with you that through Mak-RIF, the University has gone to the people and people are now actively participating in University related work". Prof Masagazi also shared that the Mak-RIF Round 5 Request for Applications was shared out and receipt of applications would close on October 20th, 2023. He urged all to look out for the request details on the different Communication Platforms including the Mak-RIF website: rif.mak.ac.ug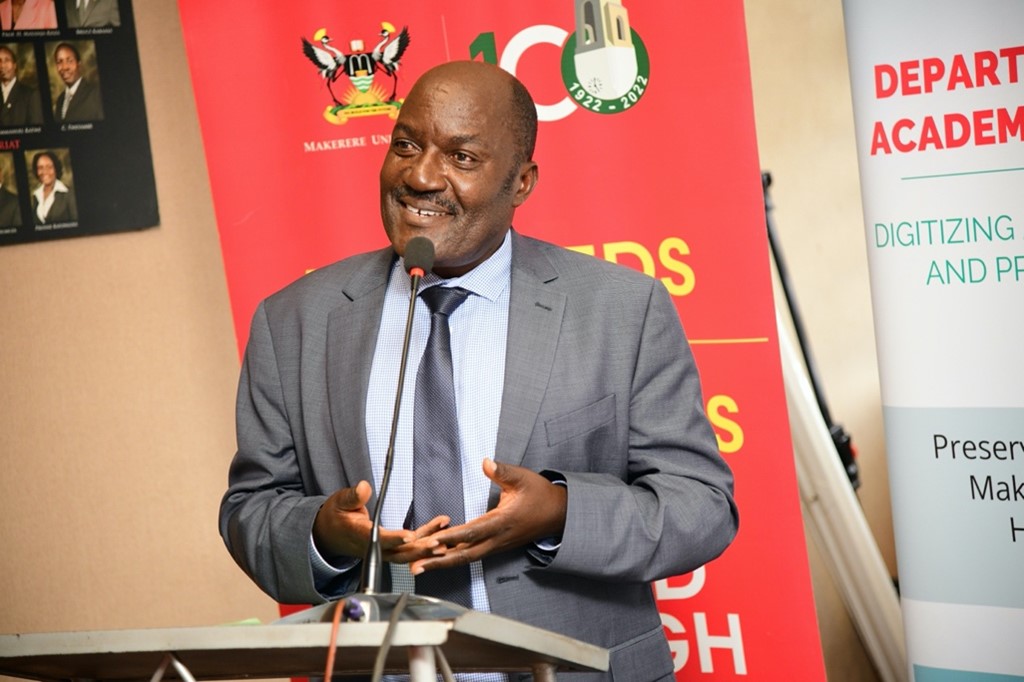 Mr. Patrick Muyinda, Assistant Commissioner ICT at Uganda's Ministry of Education and Sports in his remarks commended the Project Principal Investigator, Mrs. Patience Mushengyezi and her team for the work well done thus far. "This is yet another showcase of women empowerment in a higher institution of learning, thank you and congratulations Makerere University" Muyinda said.  He shared that he was pursuing further studies in records and registry related work and so would be happy and willing to engage the project team to further generate and share knowledge. He thanked Prof. Nawangwe for the able leadership of the higher institution of learning applauding the Makerere University Management team for all the support offered to Prof. Nawangwe over the years.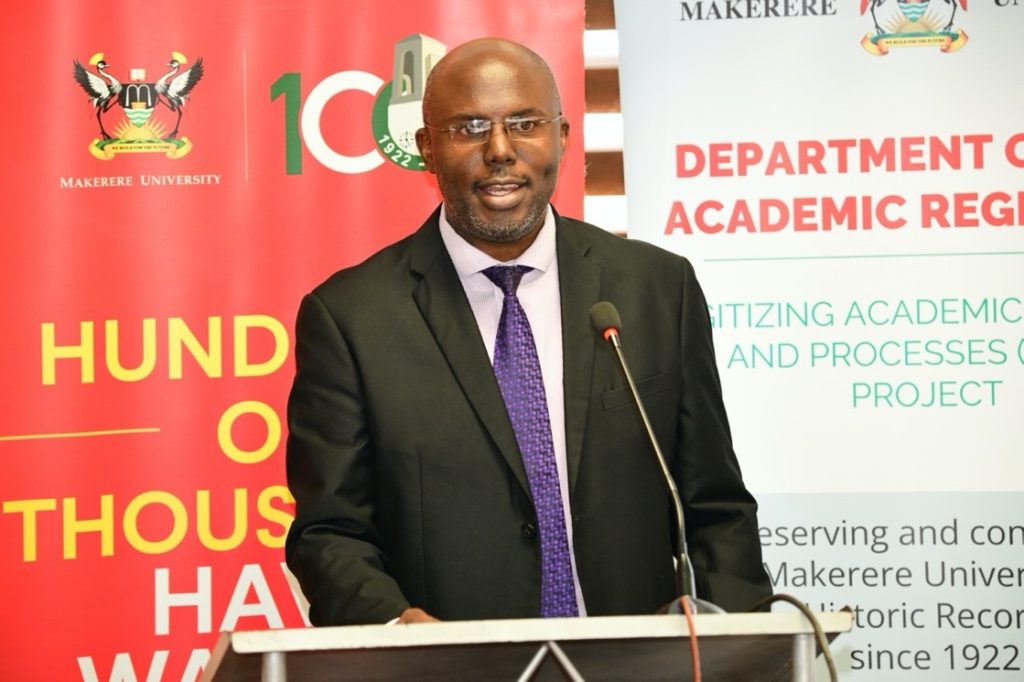 Prof. Barnabas Nawangwe said "Probably the DARP project is one of the most important things we are doing at Makerere University with funding from the Government of the Republic of Uganda. I say this because this project is very vital and relevant to not only Makerere University but also the country at large. Well done Mrs. Patience Mushengyezi, the Principal Investigator and your team".  He also noted that Makerere University now has up to 500,000 alumni who are alive and when you add those who have passed on, then the number increases. "With this project now, can we issue transcripts within ten minutes?" Prof. Nawangwe asked adding that the effect of this project on students is huge".  Prof. Nawangwe was happy to share this project's strides with members of Makerere University council. He also demystified one of the previous speaker's comments that 70 percent of funded projects fail saying that that statistic excludes projects within and supported by Makerere University.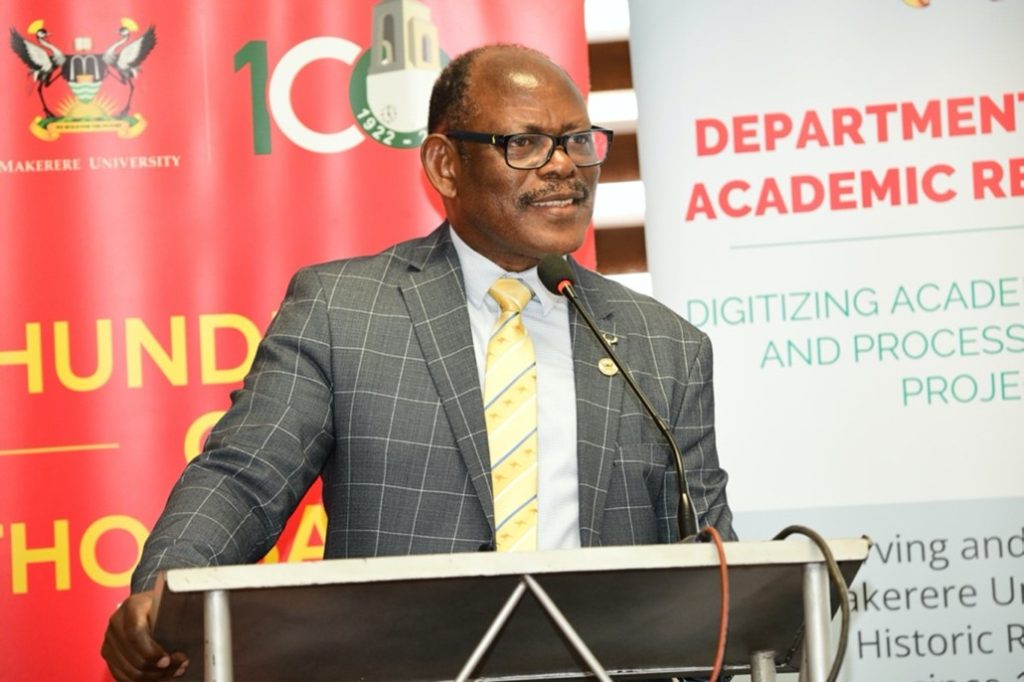 The DARP team comprises of:
Patience Rubabinda Mushengyezi, the Principal Investigator
Betty Ezati, Co- Principal Investigator
Members
Prof. David Luyombya, Archivist
Joyce Bukirwa, Record systems specialist
Peace B. Tumuheki-Mukombe, Project Administrator
Ms Ruth Iteu Eyoku, ICT Specialist
Juma Katongole, Data Manager
Gyaviira Lubowa, Accountant
The Project Supervisors include; Makerere University's Academic Registrar and Division heads including the Directorate of Research and Graduate Training (DRGT).
The DARP project identified several challenges affecting records management at Makerere University. These included:
Manual handling of records

Inaccessible records for references
Delay in processing students' academic records
Long queues in Academic Registrar's Department

Inadequate storage space

Records occupying most office space
Mixing of inactive and active records
Mishandling of examination results and files
High rate of wear and tear

Manual lengthy processes
Certification and verification
Graduation procedures
Senate meetings
Inadequate security for records
Lack of CCTV cameras to track movements in record rooms
Lack of fire protection systems
Inexistence policy for records management
lack of guidance on disposal of records
Poor/no disposal of unwanted records
Lack of streamlined way for creation of records
Lack of a system to streamline records management
Poor coordination of activities which deal with students' files
Lack of an information management system to track students' files
It is exciting to note that this project has registered the following achievements;
The Senate building has been Secured against fire. Fire protection and detection systems have been installed in the Senate Building.
Establishment of the Digitization Centre in Committee Room 2
Acquisition of the Academic Records Management System (MAK-ARS)
Implementation of the Digitization process; Scanning and indexing unto the MAK-ARS system
Formulation and Approval of the Academic Records Management Policy
Secured record rooms through installation of access controls and CCTV cameras in all record rooms.
Installation of modern Manual Mobile record shelves. These shelves have fire protection system, have access controls, and can be used by more than one person at ago
What next for the DARP Project?
The DARP team is now moving forward to digitize students' files in order to have certification and verification requests done online/ in real time. This project will be rolled out to all Colleges to improve record keeping, ease retrieval, and tracking of students' records. The project team remains open to collaborations and partnerships to realize the scaling of this project to other institutions and organizations.
Organized registry and installation of modern records storage facility with a capacity of storing over 100,000 students' files
Fire proof cabinets for storage of records
Work ongoing in a digitization unit
Installation of fire detection and protection system in all records rooms
By Harriet Adong, Communications Officer at Makerere University Research and Innovations Fund (Mak-RIF) and Mrs. Patience Rubabinda Mushengyezi, Makerere University's Deputy Registrar and DARP Project Principal Investigator.