President Museveni Appreciates Mak Research, Launches Mak@100 Celebrations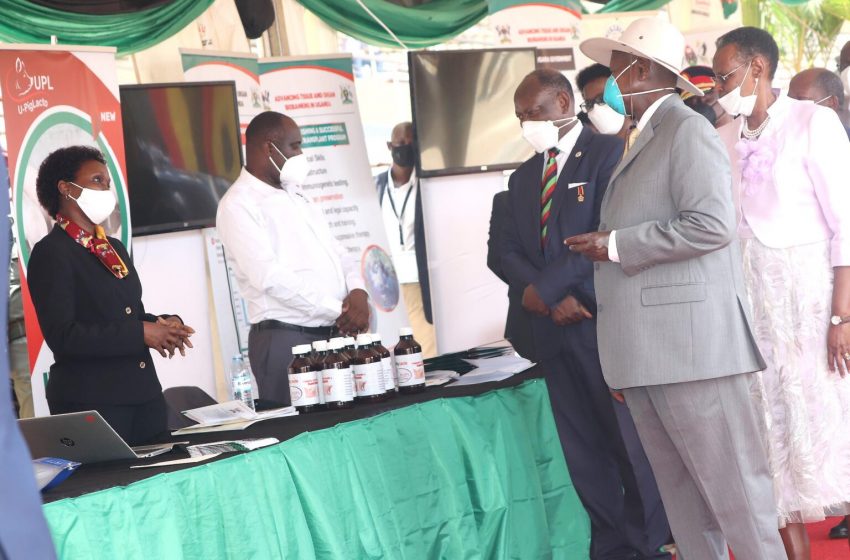 The President of the Republic of Uganda and Visitor of Makerere University H.E. Yoweri Kaguta Museveni on Saturday 9th October, 2021 unveiled the Mak@100 Logo and officially launched the year-long Centenary commemoration as part of the 59th Independence Day celebrations held at the Kololo Ceremonial Grounds.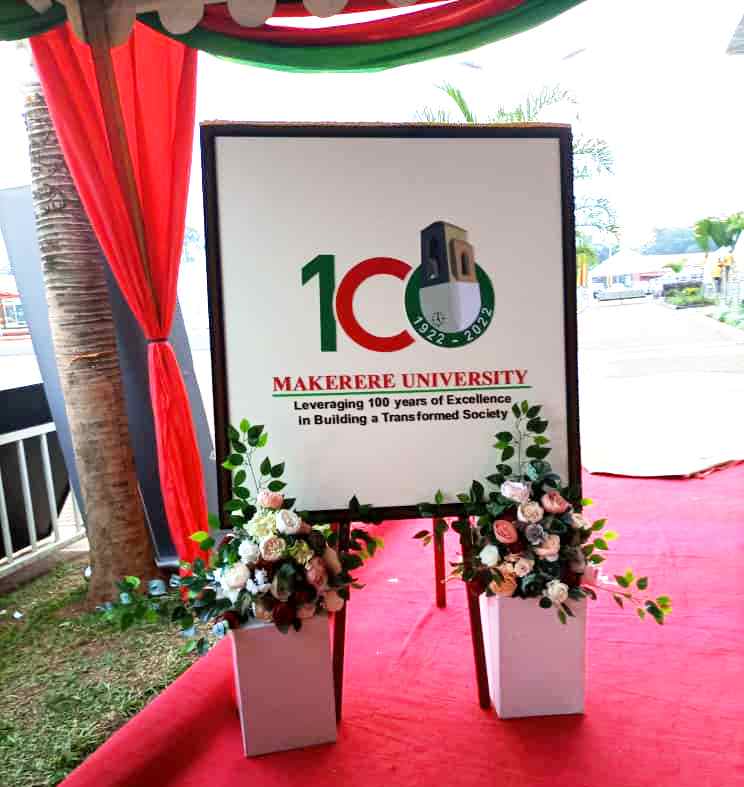 Prior to the launch, the President who was in the company of the First Lady and Minister of Education and Sports (MoES), Hon. Janet Museveni toured an exhibition of eighteen (18) projects –twelve (12) funded by the Government of Uganda through Makerere University Research and Innovations Fund (Mak-RIF) and six (6) funded by International Agencies – designed to drive Uganda's development Agenda. They included;
Advancing Tissue and Organ Biobanking in Uganda led by Prof. Moses Joloba
Up scaling the Usefulness of Ugandan Moringa oleifera and Aloe barbadensis through Formulation and Clinical Development of Novel cosmetics and pharmaceutical products led by Dr. Lutoti Stephen
Development of an open design Low-Cost Ventilator in Response to the COVID-19 Need
A low-cost Device for Decontamination of Personal Protective Equipment Towards Safe Reuse led by Dr. Cosmas Mwikirize
Kiira EV and Kiira EVS led by Prof. Sandy Stevens Tickodri-Togboa assisted by Mr. Paul Isaac Musasizi and Mr. Dominic Semukuttu.
Engine Proof of Concept prototype developed from locally available materials in Uganda by MAPRONANO ACE in collaboration with Kevoton Motion Engineering Limited (KMEL)
A Pedal-Operated Seed Cleaner (PoS-Cleaner) To Boost Post Harvest Grain and Legume Quality, Increase School-Study time and Create Financial Freedom in Rural-Uganda led by Dr. Peter Tumutegyereize
Development of a Green Low-Cost Touchless Hand Wash Technology (TW-20 Kit) For Public Shared Spaces led by Dr. Joshua Wanyama
Strengthening Science, Technology, Engineering, and Mathematics (STEM) Using Gamification in Primary Schools (GamePlus) led by Dr. Benjamin Kanagwa
Makerere University Electronic Human Resource Management System (eHRMS) led by Assoc. Prof. Josephine Nabukenya
Covid-19 and Learning from Home: Parental involvement in the learning of Primary School going Children led by Prof. Betty A Ezati.
Pathogen Economy: Microbial Probiotics for Improved Pig Health and Productivity led by Prof. Samuel Majalija
Design of an Improved Cooking Stove for Clean Energy, Electricity Generation, Food Security and Climate Change Mitigation led by Mr. Hussein Kisiki Nsamba
Practicals to the Home for the Rural Student led by Dr. Taddeo Ssenyonga
Wekebere Medical Device development led by Mr. Stephen Tashobya
Eco Mobile water purifier
EpiTent Limited: A "portable habitation solutions" provider
KUNGULA (Winnowing Thresher): Aggregated Post-Harvest Solutions led by Mr. Ssekanyo Stephen
The President and First Lady were received at the exhibition by the Chairperson of Council, Mrs. Lorna Magara, Vice Chancellor, Prof. Barnabas Nawangwe and Prof. William Bazeyo, Head Grants Administration and Management Support Unit (GAMSU) and Chairperson Mak-RIF Grants Management Committee (GMC).
Following his tour of the exhibition, the President acknowledged and appreciated the work being done by Makerere University, especially to front research and innovations, capacity building as well as providing solutions to community challenges.
Prof. Nawangwe in his remarks thanked the President for entrusting the research fund to Makerere University, which has over the years extended the fund to other institutions through partnerships. He thanked the researchers and innovators for doing a good job and urged them to continue producing solutions that benefit communities.
The University leadership pledged their continued commitment to realizing more community-targeted research and innovation outputs, with the aim of improving their livelihoods.