Mak-RIF Seeks Collaboration with the European Union Delegation in Uganda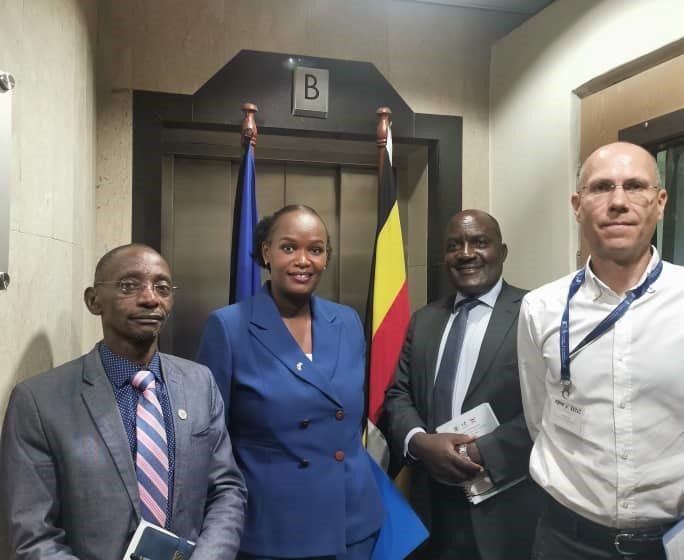 Makerere University Research and Innovations Fund (Mak-RIF) top officials engaged with the EU delegation discussing possible collaboration areas directed towards accelerating national development. This engagement was on Tuesday Afternoon,16th August 2022 at the EU Delegation Office premises on Crested Towers.  Mak-RIF is a funding stream from Government of the Republic of Uganda, to support high impact Research and Innovations that will accelerate national development. The fund illustrates the increasing importance that the government attaches to research and innovation as a driver of socio-economic transformation. The fund exists to increase the local generation of translatable research and scalable innovations that address key gaps required to drive Uganda's development agenda.  According to Mak-RIF, over the last three Financial Years (2019/2020, 2020/21 and 2021/2022), government appropriated 79 billion Uganda Shillings to support this fund. "Between the two years, Mak-RIF has funded over 750 projects across all sectors critical for development. The projects funded represent many of the well written proposals that just fit within the few resources allocated to the fund," said Dr. Roy William Mayega, Mak-RIF Coordinator.  "Many proposals are not funded because of the limited resources yet they could contribute to the Country's development," he added. In addition to that, some of the funded projects are ready to be translated for larger scale impact or commercialization. "There is need to work on Water and sanitation, youth unemployment and climate change. These are key issues that need immediate solutions," he noted.
The Mak-RIF delegation included Prof. Fred Masagazi Masaazi, the Chairperson of Makerere University Grants Management Committee who also led the Mak-RIF delegation, Dr. Sabrina Kitaka Bakeera – The Vice Chair Grants Management Committee, Dr. Roy William Mayega, Mak-RIF Coordinator and Ms. Grace Ruto Cherotich- the Engagement Officer.
The Head of Governance at the EU, Mr. Nicolas Gonze shared details of their areas of interest at the EU, it was evident that operations within the two institutions are being guided by similar thematic areas focused to contributing to development. Mak-RIF is committed to providing the evidence that is needed to drive development, and by synergizing with EU's programs to provide insights that can strengthen implementation. The Mak-RIF program plans to plug into various EU funding opportunities particularly:  
Participating in the Erasmus+ program with a view to leveraging resources to strengthen the research capacity in universities in Uganda, so that they become a key partner in development. 

Join the globe in participation on the EU's Global Innovation Program to pitch an initiative that will expand the research and innovations fund, with a focus on scaling and commercialization of innovations with proven transformative potential, especially in areas of interest to the EU, including Climate Change, WASH and Youth Unemployment. 

Since the EU is mainly an implementing agency, Mak-RIF hopes to leverage buy-in on very specific research questions that directly inform the implementation of EU's programs and foster learning and adaptation for better service delivery. e.g. On Youth Unemployment and Climate Centred Development. 
The Research and Innovations Fund is aimed at providing solutions to accelerate development for key development actors in areas that intersect with the national research agenda.
Engagement and discussions with the EU delegation are ongoing and we are looking forward to leveraging a strong and long-lasting relationship with the EU as we all strive to respond to communities' most pressing needs and challenges.  
Compiled by: Grace Ruto. C, Mak-RIF Engagement Officer and Harriet Adong, Mak-RIF Communications Officer.