Unveiling Progress of the Low-Cost Medical Ventilator (Bulamu Ventilator)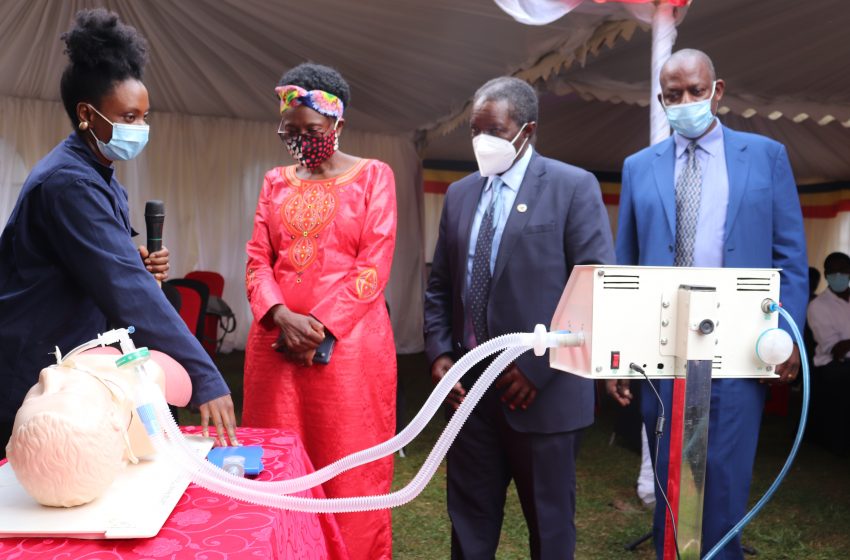 On Thursday June 11, 2020 at exactly 9:00 am EAT, Professor William Bazeyo, Deputy Vice Chancellor-Finance and Administration at Makerere University, Chief of Party at Resilient Africa Network (RAN) and Chair Makerere University Research and Innovations Fund (RIF) joined by Mr. Paul Musasizi, Chief Executive Officer at Kiira Motors Corporation (KMC) engaged and briefed Hon. Dr. Jane Ruth Aceng, Uganda's Minister of Health on the progress of the Low Cost Medical Ventilator. The engagement took place at the KMC headquarters in Ntinda, Kampala Uganda where the design, fabrication and further refinement processes on the ventilator are currently taking place. This is a product of Makerere University, ResilientAfrica Network (RAN) a project of the School of Public Health and Kiira Motors Corporation (KMC). It has been branded 'Bulamu Ventilator'. This is yet another exposition of the power of collaboration and partnership.
It is notable to share that all resources towards designing, fabricating, testing, iteration processes of the Low Cost Ventilator are from the Government of the Republic of Uganda through Makerere University Research and Innovations Fund (Mak-RIF). 'We are forever grateful to the Government of the Republic of Uganda for funding research and innovation at Makerere University. All resources which have gone into supporting the efforts to manufacture this Ventilator are from the Government of the Republic of Uganda. No foreign resources whatsoever' noted Prof. Bazeyo. He also thanked Dr. Vincent Ssembatya, Director Quality Assurance, Makerere University who explored and hatched the idea of a possibility for Uganda and Ugandans to engage in developing and manufacturing a Low Cost Ventilator levering from collaborations with University of Florida and Massachusetts Institute of Technology (MIT) both in the United States of America. 
Mr. Musasizi while addressing the few stakeholders at this engagement introduced the multidisciplinary team behind this work which included Engineers, Medical practitioners, Anaethesists, creative thinkers, researchers and innovators. He also noted that all materials used in the process of designing and fabricating the ventilator were locally sourced in Uganda. 'Uganda is rich with not only the human resources and brainpower but also local materials which we used to put the Bulamu Ventilator together' he said. Moving forward, the research and innovations team is going to hold tests in animal models (starting in 2 weeks' time) and then a Phase 1 Clinical Trial (starting in 1 months' time). The brand name for the Low Cost Ventilator is 'Bulamu' meaning 'Life' or 'Health'.
The Minister was happy about the progress with developing and availing Uganda and Ugandans with the Low Cost Ventilator noting that 'The Bulamu Ventilator has come at the right time especially when we are registering more Coronavirus (COVID-19) positive cases in the country. We must be prepared just in case there is need for us to support some of the patients to breath given that this is one of the complications severe patients present with' she said. 'This ventilator will not only serve or help us during these times of COVID-19 but also post COVID-19 management as our hospitals need such medical equipment' she added. She also urged all creative thinkers and innovators not to tire in the process as Uganda and the world at large needs innovative solutions to address the diverse challenges within the communities. She noted that she was looking forward to having the Bulamu Ventilators out there in the health facilities, not just to support the COVID-19 patients but also others who need them. She pledged more support to Makerere University as we strive to positively impact the communities in which we live and serve.
Details are accessible and shared on https://www.ugandaupdatenews.com/ugandas-minister-of-health-unveils-bulamu-a-locally-made-low-cost-medical-ventilator-to-fight-the-covid-19-pandemic/