SWEDEN-MAKERERE Days of Excellence:November 17th and 18th , 2022
On Thursday 17th and Friday 18th November 2022, the Embassy of Sweden in Uganda and Makerere University celebrated the essential role of research, science, and innovation in supporting Uganda's long-term growth and prosperity.
The two-day event took place at Makerere University guided by the theme; "20 years of cooperation: robust foundation for continued development".
The main objective of the bilateral research cooperation between Sweden and Uganda (specifically universities) has been to enhance the capacity of public higher education institutions to conduct and sustain strategic and high-quality research that will contribute to the development needs of Uganda and beyond through building a critical mass of independent, robust, and dynamic researchers.
Prof. Nawangwe said Makerere, the Swedish government and other stakeholders came together to celebrate one of the biggest staff development projects at any University in the world, thanking the government of Sweden for the continued support.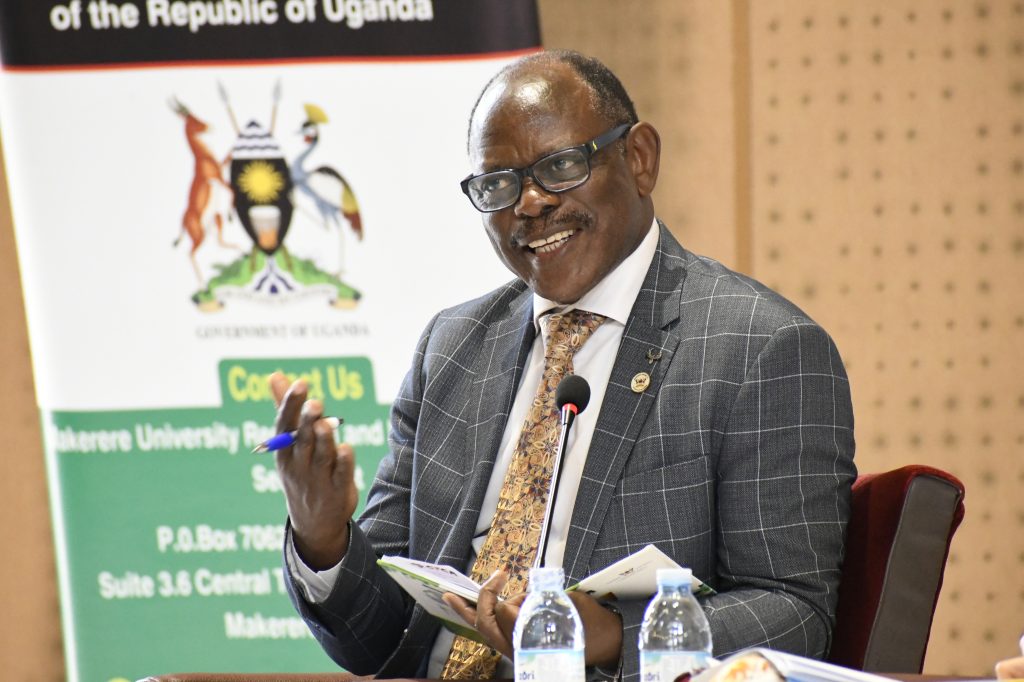 "The most important investment by the government of Sweden is the investment in Human Resource in these public Universities so they can train the remaining Human Resource that is going to run the economy, Prof. Nawangwe said." He expressed his gratitude for the collaboration saying a half of Makerere's PHD's were trained through this program.
He welcomed all stakeholders to the engagement, thanking them for honoring the invitation and always supporting Makerere University's efforts to serve humanity. He also thanked the Republic of Uganda's Parliamentarians who graced the engagement noting saying "Thank you our Members of Parliament for joining us in this engagement, your presence is evidence that you support Makerere University's efforts towards positively transforming the communities through research and innovation among others".
"Makerere University is grateful for the continued collaboration with the Embassy of Sweden in Uganda and all the other stakeholders. We remain open to such collaborations which are also supporting our efforts towards becoming a research led institution" Prof. Nawangwe added.
Prof. Nawangwe's remarks are shared here.
Her Excellency Maria Håkansson, the Swedish Ambassador to Uganda congratulated Uganda on three accounts of 100 years of Makerere University, the recent launch of the satellite and 60 years of independence and diplomatic alliance with Sweden.
"In Makerere University, Sweden sees not only a friend but a key player in the efforts to create a more prosperous Uganda. Research, science, and innovation are key building blocks for creating economic growth, no matter the current economic status of a country. With this two-day engagement, we wish to celebrate and highlight the importance of research and innovation," said Ms. Hakansson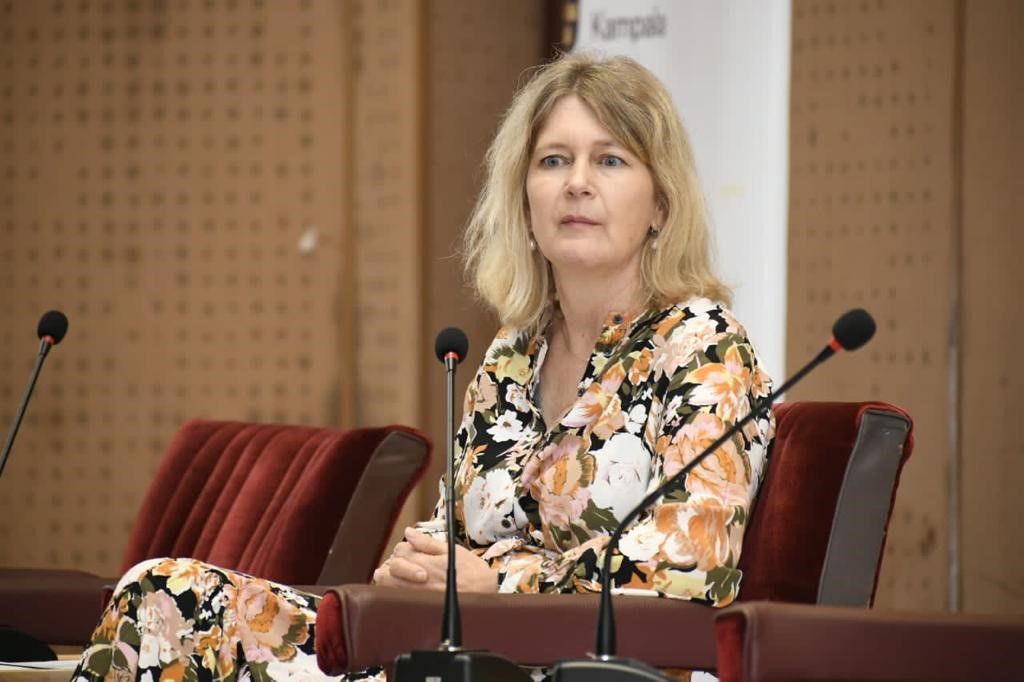 The programme was implemented by the five partner Ugandan public Universities (PPUs). Firstly, Makerere University and then Kyambogo, Busitema, Gulu and Mbarara joined under the framework memorandum of understanding. The PPUs continue to collaborate in mutually beneficial ways to share professional experiences and exchange of information on research and teaching methodology, curricula, the training of specialists, and to explore and implement other forms of professional interaction and exchange. The Universities also exchange students and staff for purposes of study or supervision in particular subjects, courses or projects where the relevant expertise is not available in their own institution. 
The Ambassador's Speech is shared here.
Some of the achievements emanating from this cooperation (also showcased during the Days of Excellence) include but are not limited to the following.
Strengthening capacity building for staff in partner public Universities. Training human resource in PPUs, where 773 beneficiaries were supported i.e., 263 masters; 327 PhD graduates, 95 small research grants completed and 85 postdoctoral fellowships.
Table 1:  Total Summary of Students and research supported, 2000 – 2022
| | | | |
| --- | --- | --- | --- |
| Category | Male | Female | Total |
| PhD | 200 | 127 | 327 |
| Master | 152 | 111 | 263 |
| Postdoctoral | 59 | 26 | 85 |
| Small Research Grants | 78 | 20 | 98 |
| TOTAL | 489 (63%) | 284 (37%) | 773 (100%) |
Improvement of ICT Infrastructure, the ICT project established the MakCloud Data Centre at Makerere University.
The University Library has continued subscribing to electronic resources as part of the efforts to support research at Makerere University. A total number of 49 databases are subscribed at the University including the Research4life portals and Makerere currently boasts of 20,000 journals on their on-line library.
The BRIGHT Project at the Department of Computer Science established the Software Systems Centre (SSC) to strengthen the University-Industry linkages. The SSC innovation named, AirQo (airqo.net), that involves design and development of air quality devices and data visualization has contributed to the improvement of air quality in Kampala and other urban areas in Uganda. The innovation is jointly implemented with Kampala Capital City Authority, National Environmental Authority (NEMA), and the United States Embassy in Kampala.
The Geographical Information Science (GIS) centre project acquired the state-of-the-art, data-rich, well-organized, and high-performance geospatial data archived on a server in the GIS laboratory. The GIS centre website is fully developed and functional i.e. (http://www.cedat.mak.ac.ug/GISCentre).
The centre has continued to be consulted for training support to various organisations including the Ministry of Lands, Housing and Urban Development (MoLHUD), Uganda Red Cross Society (URCS), Uganda National Roads Authority (UNRA) and National Planning Authority (NPA).
Mr. Bemanya Twebaze, Director General African Regional Intellectual Property Organisation (ARIPO), based in Harare delivered the keynote address. He said, low levels of patents and trademarks is a hindrance to development and that innovations when harnessed properly benefit the needs of the grass root communities. He emphasised research in critical areas of food security, transport & infrastructure, technological advancements, and nutrition.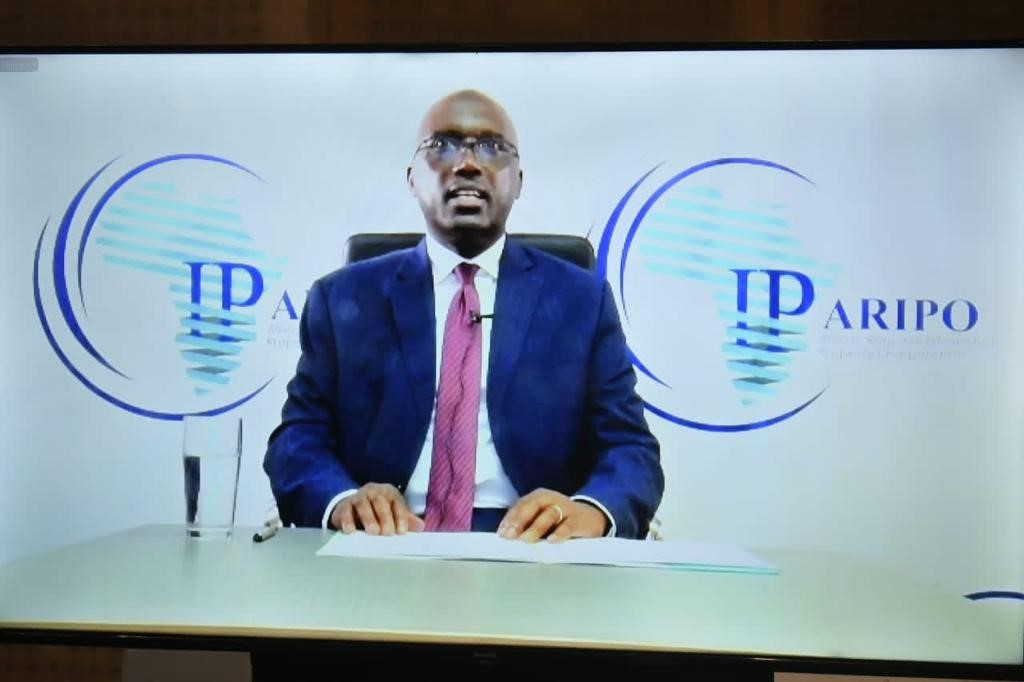 He advised that Intellectual Patent (IP), is a catalyst of innovation and creativity. He concluded his speech saying, "Let us today sow the seeds that we want to harvest tomorrow."
Mr. Bemanya's keynote address is accessible here
Ms. Mercy Kainobwisho, the Director General, Uganda Registration Services Bureau (URSB), said the company has advanced in technology to suit all Ugandans, i.e., various messages are currently being shared via mass media and social media to suit even the vulnerable groups including the youth and women. She encouraged Ugandans to acquire patents saying innovation without protection is as good as nothing. She called on the key players in the economic sectors to bridge the communication gap if we are to achieve development.
Mr. Amuuza Kansiime, a third-year student at Makerere University's College of Computing and Information Sciences (CoCIS) extended a request to all institutions of learning to continuously involve the youth in all aspects given the fact that it is through the engagement of all stakeholders that we shall all march towards development. He also re-echoed the need to continue channelling efforts towards more practical learning as opposed to the theoretical approach noting that it is through practice that we shall all embrace innovation as means to address the diverse community challenges.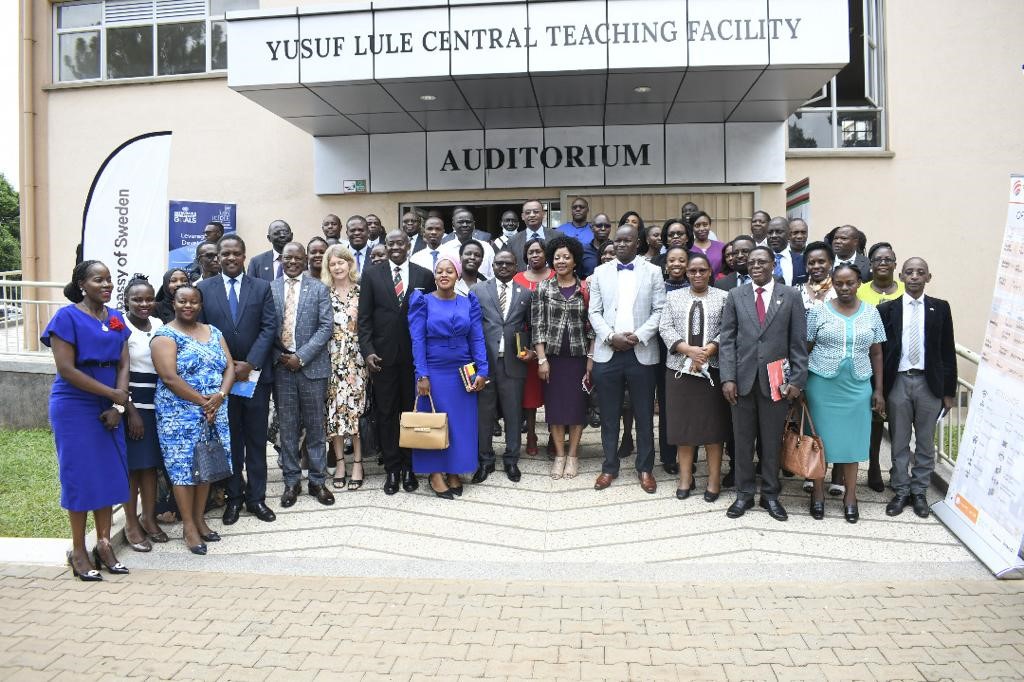 Some of the government of the Republic of Uganda funded and supported projects that were exhibited are listed below. These projects are supported through Makerere University Research and Innovations Fund (Mak-RIF).
Virtual Reality Technology for Optimizing Safety and Competence in Management of COVID-19 Patients – Principal Investigator – Dr. Daudi Jjingo.
Exploring Stingless Bee Products for Nutritional and Medicinal Values in Uganda (bee-nutri-medicine Project) – Principal Investigator – Dr. Moses Chemurot
Essential oil crops commercialization for sustainable public health products development and rational promotion. Principal Investigator- Dr. Savina Asiimwe
Development of a recyclable-water hand-washing facility (ECO-WASH). Principal Investigator- Dr. Peter Olupot
Developing dry season feeding technologies for different cattle production systems in Uganda- Principal Investigator – Dr. Justine Nambi Kasozi
Enhancing The Grain Amaranth Value Chain for Improved Nutrition, Livelihoods and Enterprises Development in Uganda- Principal Investigator – Dr. Dorothy Nakimbugwe
Prof. Nawangwe concluded by noting that "Nobody is going to be left behind in the research and innovation efforts. Even the community artisans will be part of these efforts so that we together achieve". He invited all participants to join in an engagement with the exhibitors especially as we together pave a way to commercialize and scale the research and innovation outputs from Makerere University and elsewhere.
Friday 18th November 2022 was Day 2 of the Sweden – Makerere Days of Excellence. It was during this day when partners including Ericsson and United Nations Capital Development Fund (UNCDF) joined in to further engage Makerere University students. The team from Ericsson made a presentation to STEM students and later invited guests including Makerere University's Vice Chancellor and the Swedish Ambassador engaged in Round Table Discussions guided by the theme "Digital Transformation in Uganda: Opportunities and Obstacles".
Press Statement is shared here.
Media Stories are accessible on the following links.
Compiled by: Diana Ayikoru, Free Lance Journalist and Student of Masters of Corporate and Strategic Communications at Makerere University.
Contributor: Harriet Adong, Communications Officer at Mak-RIF.