Strides with Makerere University's Research and Innovations Fund (RIF)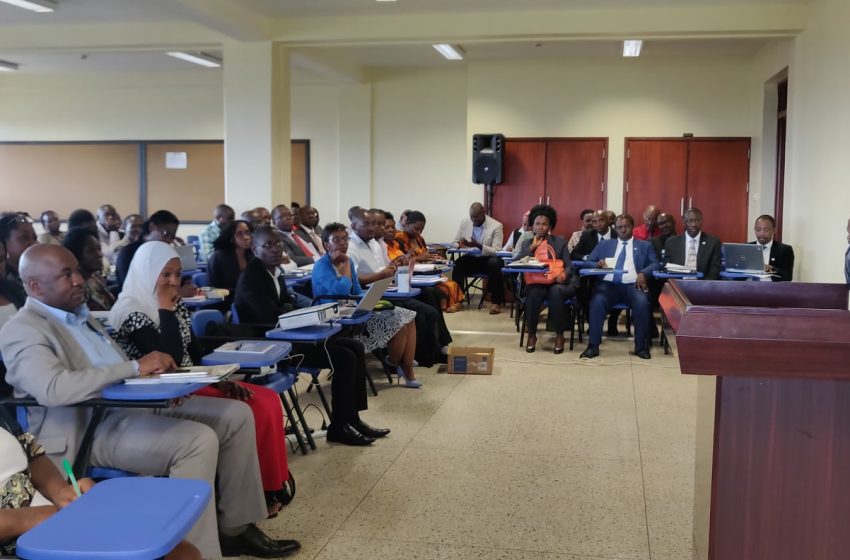 Following successful engagements between Makerere University's top management and the Government of the Republic of Uganda, Makerere University was awarded up to a tune of 30 billion Uganda shillings to support high impact Research and Innovations to drive Uganda's Development Agenda. This unique initiative is being implemented with guidance from the Grants Management Committee under the Research and Innovations Fund (RIF) at Makerere University in Kampala Uganda. Upon receipt of these funds, Makerere University's Vice-Chancellor, Prof. Barnabas Nawangwe working closely with the University Management and Leadership team constituted the Grants Management Committee (GMC) comprising 17 University staff and faculty (Male and Female) https://rif.mak.ac.ug/. In consultation with the Government of the Republic of Uganda line Ministry-Ministry of Finance, the GMC drafted and announced a call for proposals. This call was extensively publicized, engaging all Makerere University staff and faculty to prepare and submit applications to respond to the call. In addition to the general sensitization session held in Makerere University's Main Hall https://news.mak.ac.ug/2019/08/mak-rolls-out-government-research-and-innovations-fund, the GMC physically reached-out and engaged potential applicants at the various levels including; College, Academic and Administrative Units and School. See the engagement sessions shared on https://www.facebook.com/researchandinnovationsfund/.
Overall, the GMC received 704 applications from the 10 Colleges of Makerere University including Administrative units and Makerere University Business School. It is important to note that the majority, if not all the proposals received, were indeed very good and directly linking to the national development agenda. It took a big pool of both internal and external reviewers in-depth scrutiny of all the proposals to select those to be awarded. This is yet another manifestation of the multidisciplinary skills, rich knowledge base at Makerere University. 'It is no wonder, therefore, that Makerere University is ranked 4th best University in Africa! I am forever grateful and proud even as an alumnus to associate with Makerere University's shared Dr. Roy William, Senior Lecturer at Makerere University School of Public Health, Deputy Chief of Party at ResilientAfrica Network (RAN) and also Coordinator GMC.
On Tuesday, November 12, 2019, GMC conducted an Induction Session physically engaging the 224 successful RIF awardees. This was an opportunity to orient the awardees (who are from across all the Makerere University Colleges, Academic Units, and Makerere University Business School) on the research and innovation fund processes. These processes include but are not limited to the contracting process, requisitioning, procurement, expected transparent and timely accountability, documentation, dissemination, research translation, innovation among others.
'Once again, we are forever grateful to the Government of the Republic of Uganda for allocating and availing Makerere University funds to further support Research and Innovation. The research and innovations being supported by these resources are aimed at informing Uganda's development agenda. It is such initiatives which can indeed lead to our country's further growth and development' noted Associate Prof. Umar Kakumba, Acting Vice-Chancellor Makerere University.
During this engagement session, Prof. William Bazeyo, Acting Deputy Vice Chancellor-Finance and Administration and the Chairman GMC urged the researchers and innovators in the room to work extremely well and hard so that in the shortest time possible, we can all engage stakeholders in results dissemination sessions, sharing outputs from the RIF funded projects. He also called upon these awardees to look out for the 2nd Call which will be unveiled on January 15th, 2020. Known for the slogan 'Be a Contribution', Prof. Bazeyo said 'Let us all aim at diligently executing this work to positively contribute to the communities we live in and serve' as he wished all the awardees the very best with the detailed planning and implementation process. Currently, awardees have revised their proposals, budgets, and milestones too in line with the award. The GMC is overseeing the ongoing contracting process in preparation for onset of the different project activities.
'We Build for the Future'
Written By: Harriet Adong, RIF Communications Officer