MAK-RIF Project – CHUSS researchers use dramatics to promote uptake of COVID-19 prevention messages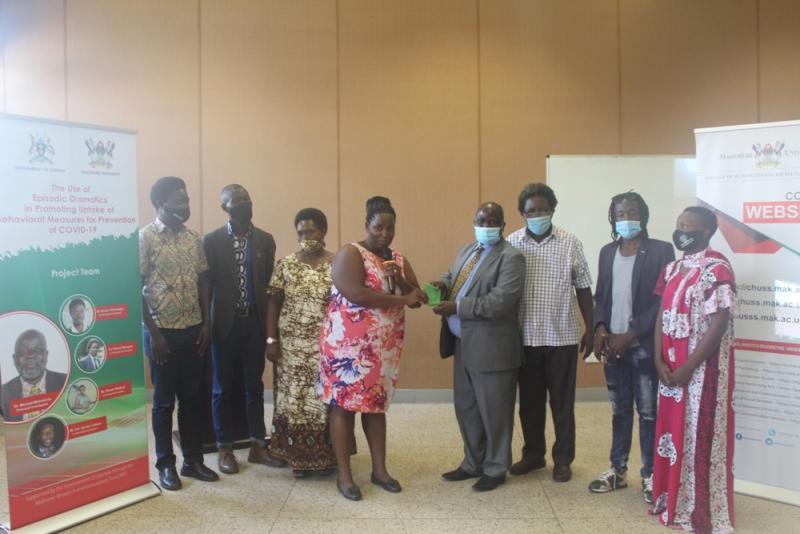 Uganda is comprised of over 50 culturally diverse ethnic groups, with different beliefs, cultures, traditions, norms and behaviors. Many of these (beliefs, cultures, traditions, norms and behaviors) contradict significantly the advice being given by the technocrats on the prevention of COVID -19, like social distancing, and avoidance of physical contact. If not managed properly, the COVID-19 regulations can be construed as anti-social and hence detrimental to Ugandan cultural fusion.
However, with no vaccine at the moment, the prevention measures are a very important remedy. This therefore calls for mindset change towards uptake of these behavioral measures for prevention of COVID-19. The National Planning Authority (NPA) acknowledges the importance for community mobilization and mindset change for development to occur and sets it as a strategy in NDP III (Chapter 18, pp.173-77). The chapter outlines the opportunities for national development but acknowledges the difficulty faced in achieving it and proposes Community mobilization and mindset change as one of the strategies for attaining requisite national development levels as set out in the Sustainable Development Goals (SDGs) at the international level and coalesced into Vision 2040 at the national level. Likewise, in the prevention of COVID-19, despite the preventive measures taken (c.f. the 35 guidelines on the prevention of COVID-19 in Uganda) there is wide spread non-compliance of the regulations, leaving many persons in prison and others in very compromising situations towards contraction of COVID-19. Cases in point are the people who horde together in great numbers against the advice of social distancing, sneezing and spitting in public with no consciousness on the dangers this can cause to others.
Basing on the NDP III strategy of community mobilization as a measure to foster compliance, the Department of Performing Arts and Film, Makerere University with support from the Government of Uganda through the Makerere Research and Innovations Fund (Mak-RIF) sought to use episodic dramatics for promoting uptake of behavioral measures for prevention of COVID-19. Under a project titled; "The Use of Episodic Dramatics in Promoting Uptake of Behavioral Measures for Prevention of COVID-19" the researchers namely; Dr Michael Muhumuza (Principal Investigator), Dr Patrick Mangeni, Dr Branco Sekalegga, Ms. Pamela Mbabazi, Mr. Eric Jjemba Lutaaya and Mr. Ian Muddu Kiyingi  composed songs, plays, pantomimes and choreographies, made up of tag lines, symbolic interpolations, juxtapositions, jokes, exaggerations, incongruities, grotesque displays, reversals, and other artistic means on selected behavioral measures for prevention of COVID-19. In particular, the team composed and produced audio visuals of 4 songs and wrote 4 episodic skits. The four (4) songs composed are; 'NaabaMungalo', 'New Normal', 'Kisoboka' and 'WakyaliwoEsuubi'. They were produced in both audio and visual form with well-assembled lyrical and instrumental fusion; giving a feel of inforpedatainment. Emphasis was put on appealing to a wide range of audiences across the demographic spectrum employing easy-to-sing-along, everyday elements in majorly English and Luganda; with some lines in Kiswahili and other languages.
The informercials were produced with a range of colour photography, text and voice-overs on four topics (wearing a mask, self-isolation, social distancing and sanitising surfaces). Through setting, character and overall dramatic presentation, the informercials target a multi-dimensional audience and relayed in elaborately simple, thought-provoking and succinct audio-visual messages intended to offer emotional connection and encourage uptake preventive behaviours in the fight against COVID 19.
The materials have been shared with different media houses and are available on various social media platforms for public consumption.
Disseminating their findings at a blended (physical and virtual) seminar held on 8th January 2021 at Makerere University, the researchers observed that the use of episodic dramatics allowed the cognition to connect with the physicality and actions of the persons and rallied all Ugandans towards uptake of behavioral measures for prevention of COVID-19. They noted that the songs and episodic skits were very effective in the promotion of uptake of behavioral measures for prevention of COVID-19. The team expressed gratitude to the Government of Uganda for availing funds that enabled them to utilize their talent to contribute to the nationwide efforts to curb the spread of COVID-19.
Addressing participants, the representative of Mak-RIF, Dr Helen Nambalirwa Nkabala acknowledged the important role of the performing arts in addressing national development challenges. She commended the researchers for the well thought out project, noting that the arts were one of the most effective modes of communication. She implored the team to translate the materials (songs and dramatics) in more Ugandan languages as a measure of promoting and expanding their uptake. Dr Nkabala thanked the Government of Uganda for the unwavering support towards research at Makerere University. The Government has so far extended UGX60 billion towards research and innovations at Makerere University.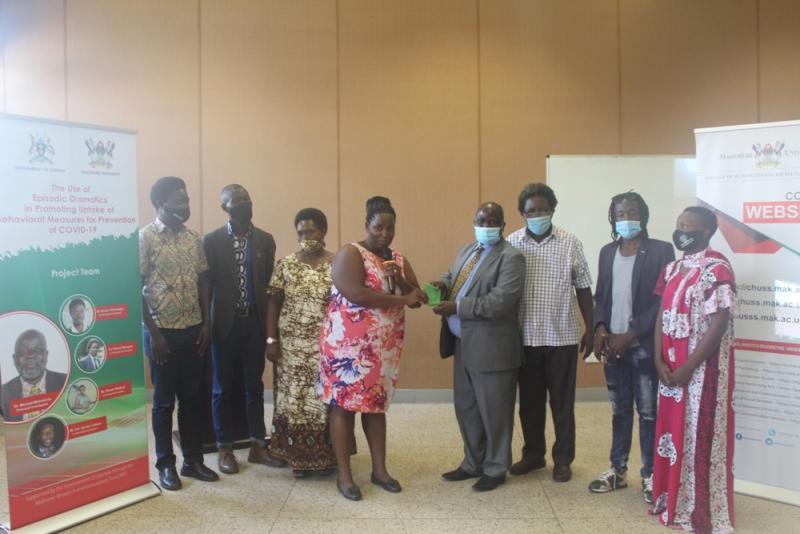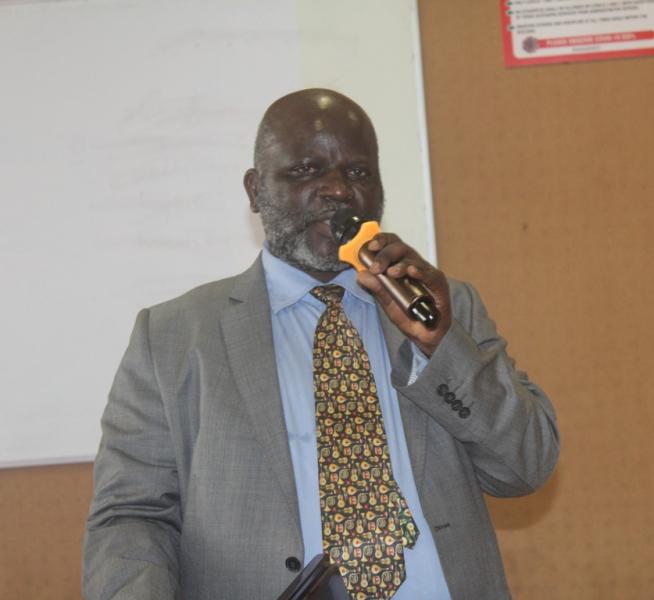 Recording of the dissemination event:
https://zoom.us/rec/share/35rdGieuRH_KHmzQ4zN8_3zD9EKh_v5nXn1oIAijsiDvW5… Passcode: 2s1*I+?1
To access the materials, please contact; Dr Michael Muhumuza, Department of Performing Arts and Film/ Email: mmikemuhumuza@gmail.com/ Mobile number: +256774479051