Grants Administration and Management Unit Steering Committee Inducted
The morning of February 8th, 2022 saw Prof. Barnabas Nawangwe, Makerere University's Vice Chancellor joined by other University dignitaries induct the Makerere University-Grants Administration and Management Unit Steering Committee. 
In his opening remarks, the Vice Chancellor thanked Prof. William Bazeyo, former Deputy Vice Chancellor In-Charge of Finance and Administration at Makerere University for his contribution to the University. In particular, the Vice Chancellor appreciated Prof. Bazeyo's efforts in sourcing for funds, establishing and setting up the Makerere University Research and Innovations Fund (Mak-RIF). He said "Mak-RIF was as a result of Dr. Bazeyo's negotiation skills". He also thanked the different University faculty who had been called upon to prepare and make presentations on various aspects in an effort to guide the Grants Administration and Management Unit Steering Committee. 
"I am glad that institutionalizing Makerere University's GAMSU [Grants Administration and Management Unit (GAMSU)] is coming to fruition because even the Makerere University Council was eager to see this take off," Prof. Nawangwe noted.  He added that the GAMSU was established because there was need for a unit to coordinate all the funding received by Makerere University. 
"We, as management envisage that this unit will be a one stop centre of the University and its members will support checking of all receipts from our donors" he said.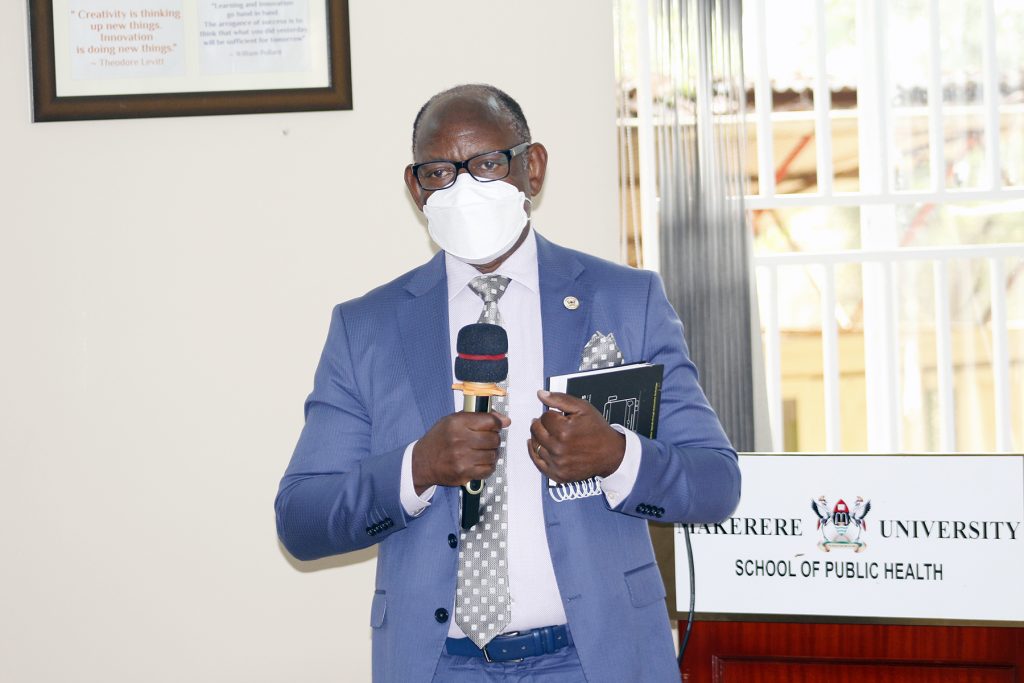 According to the Vice Chancellor, the University Management is optimistic that, with GAMSU the number of grants received by Makerere University will increase. "I call upon all of us to learn from units which have been successful in grants management and these include but are not limited to Makerere University's College of Health Sciences specifically the School of Public Health". 
Among others, GAMSU is charged with;
Tracing allocation of funds

Checking on what the resources are being used for

Conformity to the required laws guiding accountability

Adherence to reporting and accountability requirements 

Offering training sessions to researchers on various aspects including accountability, dissemination of research outputs etc.

 Facilitating performance or research implementation while ensuring that funds are properly being utilized 
At this induction session, Mr. Yusuf Kiranda, Makerere University's Secretary shared the GAMSU Policy, Purpose and Operationalization plan. He said that there were 5 things about this policy and these included the following;
That the policy emphasizes need for GAMSU to facilitate the research process more than controlling it

Policy covers the entire eco-system of grants management at Makerere university

Grants Administration in Makerere is the responsibility of various officers in the University of which GAMSU is part 
Ultimately Finance management is governed by Treasury instructions and other government laws 
The Policy also stipulates the functions of GAMSU
The University Secretary also emphased that it was important to have all grants declared to the University Council and consequently approved in the budget. "Any project operating in the University yet not declared to council shall be closed," he added. 
Mr. Kiranda ruled out the tendency to confuse the two university units, GAMSU and Makerere University Research and Innovations Fund (Mak-RIF) noting that the GAMSU policy is set to work on projects funded by grants as per section 44 of the Public Finance Management Act (PFMA) while Mak-RIF is not categorized under projects funded by grants. He further explains that Mak-RIF is budget appropriation by parliament of Government of the Republic of Uganda, and is part of the portfolio and that, GAMSU and Mak-RIF were two clearly separate entities by Government law and University policy.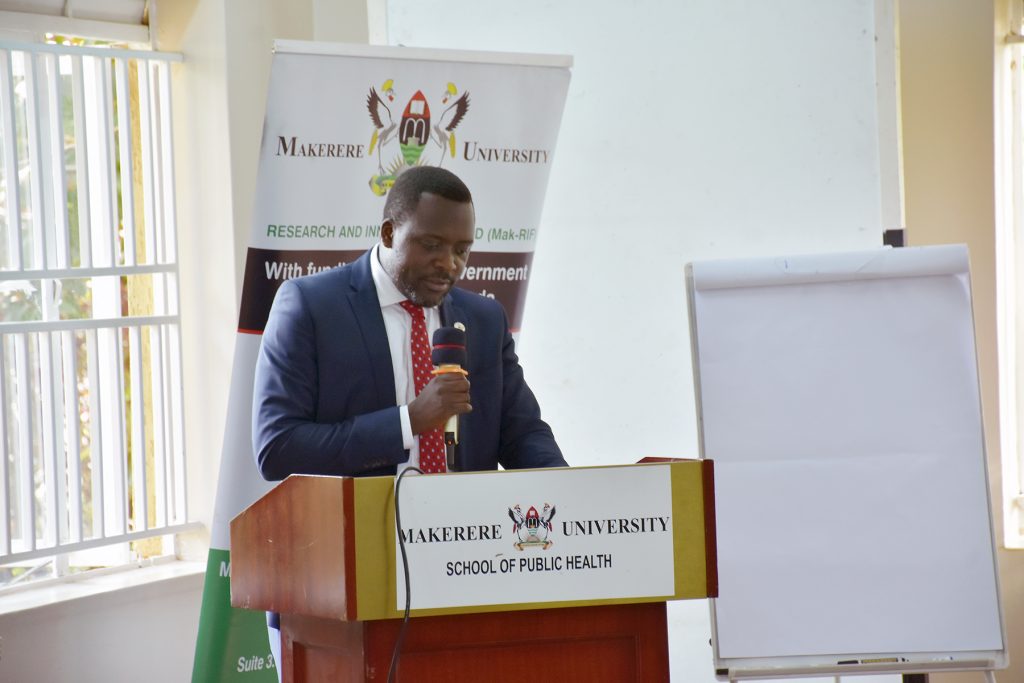 Prof. William Bazeyo, the head of Mak-RIF in his remarks shared lessons learned, opportunities and challenges implementing the research innovation fund initiative. He hailed the Makerere University Vice Chancellor for all the good work and for convening the engagement in which all could share experiences for the betterment of service delivery and operations at the higher institution of learning.  Prof. Bazeyo stressed the fact that there were several opportunities out there from which the University can benefit and thrive even more and pledged to continue supporting Makerere University before he shared the Mak-RIF achievements thus far.
Mak-RIF in numbers Mak-RIF Coverage in Uganda According to Prof. Bazeyo, the enabling factors for Mak-RIF's success included; the multi-disciplinary team at the Mak-RIF Secretariat, able Grants Management Committee (GMC), IT and communications office, finance management team, monitoring and evaluation team, adherence to standard government of Uganda payment rates as well as procedure among others. 
Some of the lessons learned included; the great potential for research and innovations at Makerere University, capacity to absorb more research funds is great in some colleges although accountability is still wanting and thus the need to deliberately organize specific trainings in this regard. 
Prof. Bazeyo also underscored the need to continue sensitizing and guiding staff on accountability, visibility, impact sharing, frequent engagement with policy makers, deliberate demonstration of inclusiveness, patent acquisition, lobbying for commercialization to mention but a few. 
So far, Mak-RIF has encountered some challenges including; unwillingness of researchers to appreciate financial processes, lack of well-developed grantsmanship, lack of University Policy then to protect research and related matters now addressed by passing of the GAMSU policy, lack of an appropriate procurement policy, lack of human capacity to solicit, mobilize, write proposals to bring extra resources into the University research pot, and lack of university budget for research to mention but a few. 
Prof. Bazeyo says there was a need to address gender barriers in research leadership, developing mechanisms to support commercialization of research, building a culture of no tolerance to unethical behavior, good renumeration, digitalizing processes etc.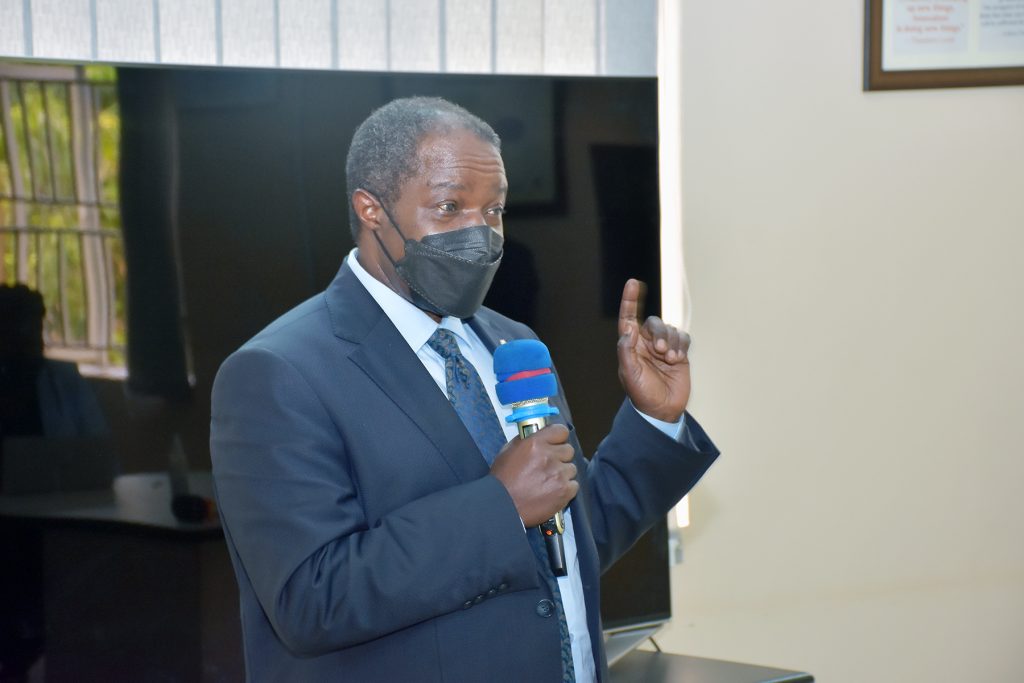 Prof. Rhoda Wanyenze, Dean Makerere University School of Public Health (MakSPH) also shared experiences from the School of Public Health. She noted that the School's Grants Management Unit was established in 2012 and operates with 13 staff. Operations of the MakSPH Grants Management Unit are guided by Makerere University's policies and additional donor specific Standard Operation Procedures. "The grants management unit at School of Public Health was set up to popularize, implement and continuously improve procedures," Prof. Wanyenze noted.
Adding that; "Compliance without overly constraining is critical.". 
She also stressed the importance of analyzing the status of grants and scientific productivity not only at MakSPH but the entire University. "In so doing, we are able to know and appreciate the status in order to inform any improvements and sustainability efforts," she explained.
According to Professor Wanyenze, MakSPH despite the great strides in grants management, the grants unit still encounters challenges such as consistency, stability and sustainability related challenges, perception of grants money rather than other work that pays and high index of suspicion of corruption among others.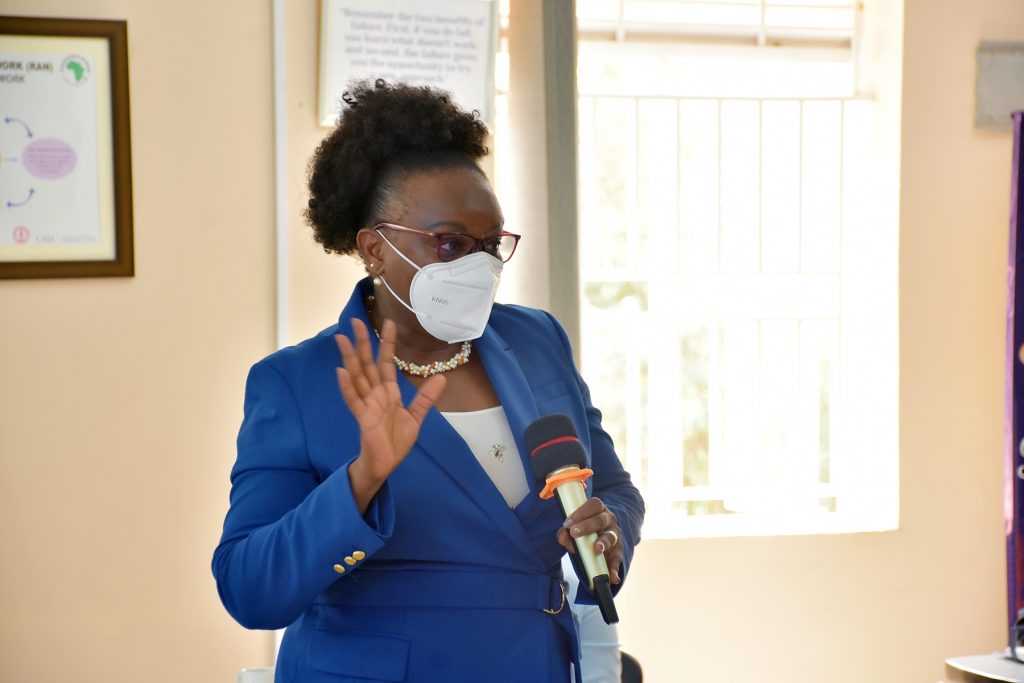 Mr. Lubowa Gyaviira, Makerere University's Assistant Accountant also shared about accountability and financial reporting noting that accountability entails fulfilling our stewardship role. That it involves reviewing and reporting on an activity entrusted to someone and it is based on a regulatory framework. "Realistic accountability follows realistic requisitions" Mr. Lubowa emphasized. He also shared that some of the specific reports expected include; quarterly reports, physical performance reports, financial reports and a summary of all funder reporting requirements etc.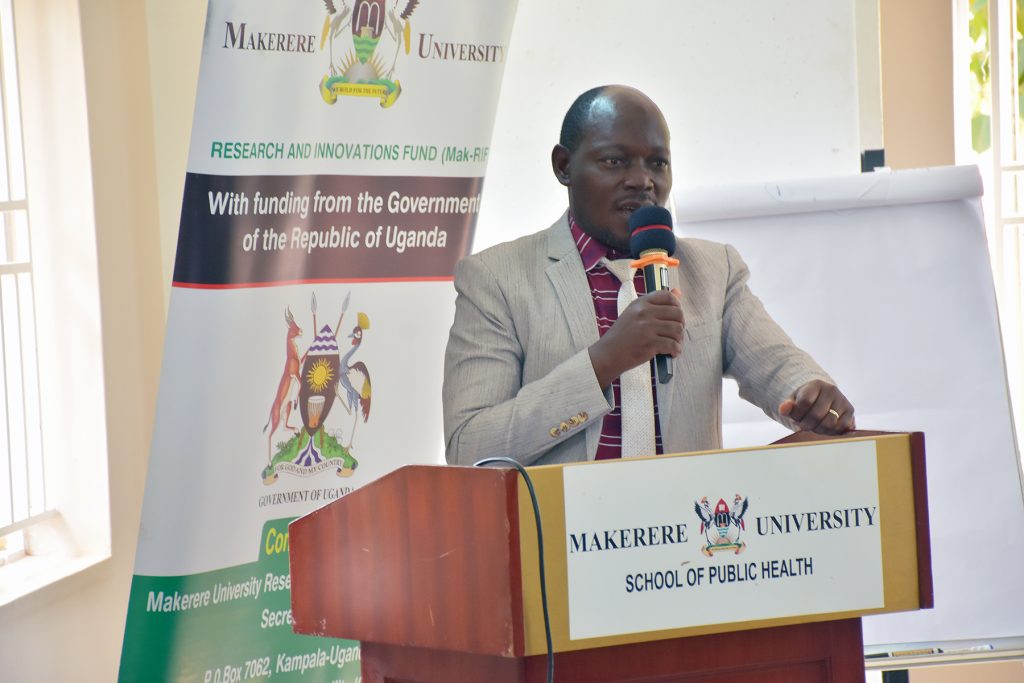 The incoming Head GAMSU, Prof. Grace Bantebya thanked the Makerere University Council for entrusting her to head GAMSU. She re-echoed the role GAMSU is set to play is crucial and she will ensure that the team works to offer support to all researchers in order to build the resource base of the university. 
"We continue to request for all the support as we embark on our duties and once again allow me to take this opportunity to thank all of you for the sharing during this Induction session. I pledge my best as we serve humanity." Prof. Bantebya said.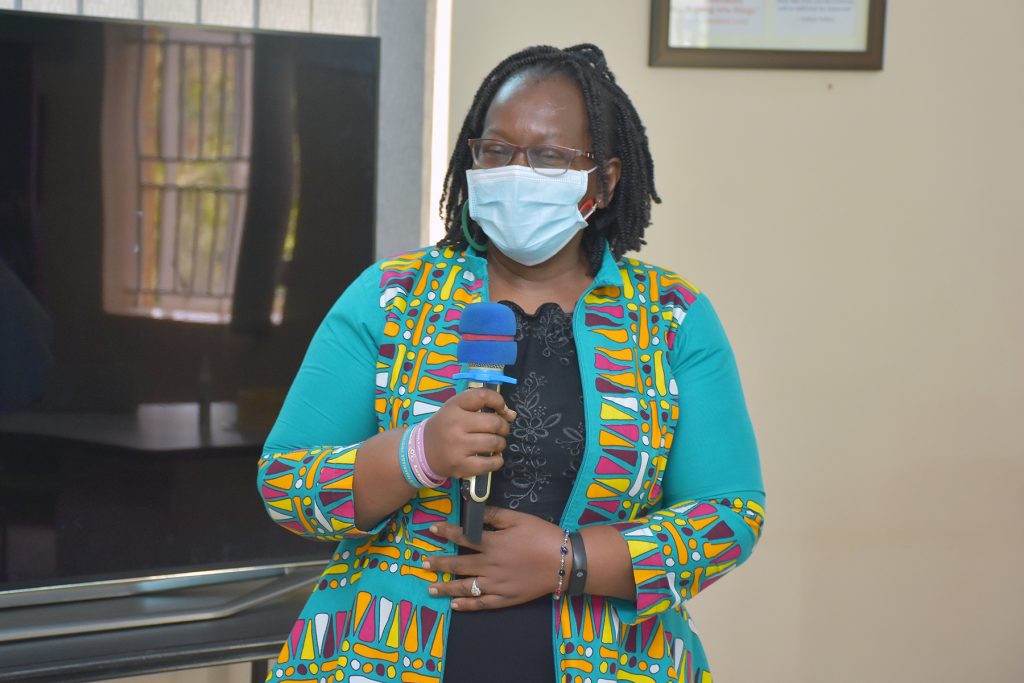 Other GAMSU Steering Committee members include; Prof. Henry Alinaitwe – Chairperson of the Steering Committee; Dr. Sabrina Kitaka, Dr. Charles Masembe and Dr. Agnes Rwanshana Semwanga – Representatives of Sciences, Dr. Hellen Nambalirwa Nkabala and Prof. Musaazi Masagazi – Representatives of Humanities, Dr. Robert Wamala – Representative Directorate Research and Graduate Training (DRGT), Mr. Gyaviira Lubowa – Representative Finance and the Legal Advisor will be co-opted as and when needed.  
Prof. Fred Masagazi Masaazi, the incoming Mak-RIF Chairperson also thanked the Makerere University Council and Prof. William Bazeyo for the continued guidance and committed service to Makerere University. He noted that he was happy to join the Mak-RIF team because it is a strong team. 
Prof. Nawangwe later handed over the tools of office to Prof. Bantebya and Prof. Masagazi and all joined in a congratulatory cake cutting and sharing.
More pictures are shared on https://drive.google.com/drive/folders/1Ksb6aCRNMMT36FYhxasCf2hv5ZUtc300 
The New Vision published a piece on https://www.newvision.co.ug/articledetails/126556 
Well done and Congratulations to All!
Compiled By: Harriet Adong, Director Communications, Learning and Knowledge Management at Makerere University-ResilientAfrica Network (RAN) www.ranlab.org 
Contributor: Christine Ninsiima, Accountant at Makerere University Research and Innovations Fund (Mak-RIF)