Days of Excellence – 20 years of cooperation: robust foundation for continued progress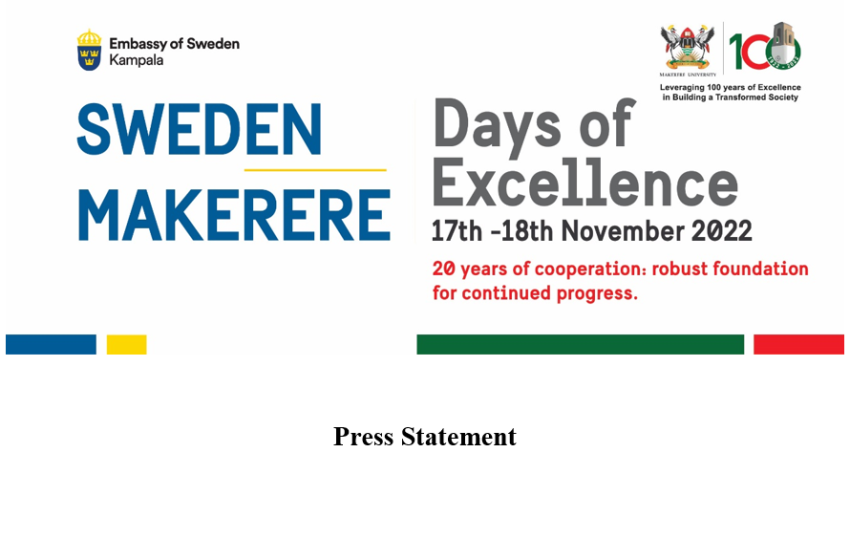 Makerere University and the Embassy of Sweden in Uganda will celebrate the essential role of research, science, and innovation in supporting a country's long-term growth and prosperity at a two-day engagement on 17 and 18 November at Makerere University Central Teaching Facility, Yusuf Lule Auditorium. The engagement marks a new phase in the 20 years long research cooperation between Sweden and Uganda specifically Makerere University.
Prof. Barnabas Nawangwe the Vice Chancellor, of Makerere University and Ms. Maria Hakansson, the Ambassador of Sweden will inaugurate this engagement, followed by a keynote address and a panel discussion. A selection of research and innovation outcomes of the cooperation in addition to other outcomes aided by funding from other initiatives like the Government of the Republic of Uganda through Makerere University Research and Innovations Fund and the United Nations Capital Development Fund (UNCDF) will be showcased in an exhibition in a space adjacent to the Auditorium.
The two-day engagement also includes a quiz for Makerere students, a Roundtable Lunch with representatives from government, academia and the private sector and events organized by partner organizations Ericsson and UNCDF.
"In Makerere University, Sweden sees not only a friend but a key player in the efforts to create a more prosperous Uganda. Research, science and innovation are key building blocks for creating economic growth, no matter the current economic status of a country. With this two-day engagement, we wish to celebrate and highlight the importance of research and innovation," said Ms. Hakansson.
"Makerere University is grateful for the continued collaboration with the Embassy of Sweden in Uganda and all the other stakeholders. We remain open to such collaborations which are also supporting our efforts towards becoming a research led institution," said Prof. Nawangwe.
Details: Embassy of Sweden and Makerere University Press Statement