Call for Applications: PhD Research Grants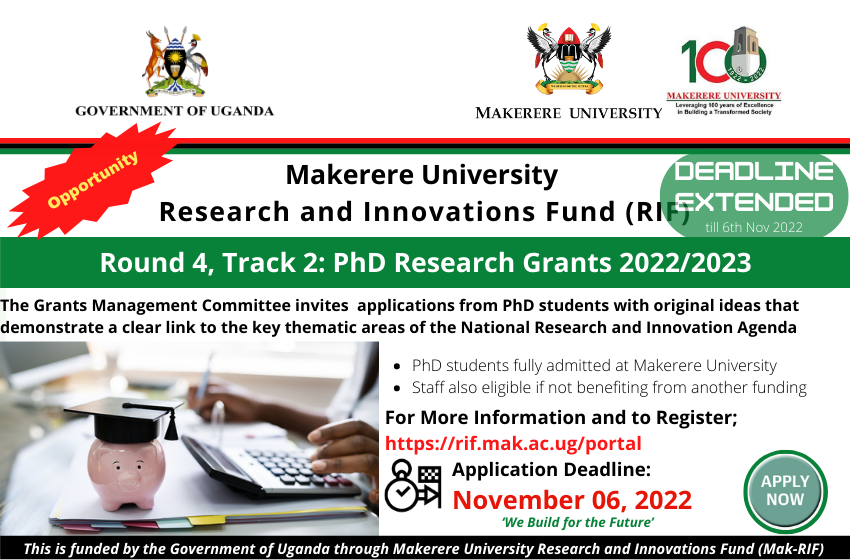 BACKGROUND
Funding opportunity description: Makerere University received special funding from the Government of the Republic of Uganda, to support high impact Research and Innovations that will accelerate national development. The Financial Year 2022/23 will be the fourth year of this fund's availability. The fund illustrates the increasing importance that the Government attaches to Research and Innovation as a driver of socio-economic transformation. The objective of the fund is to increase the local generation of translatable research and scalable innovations that address key gaps required to drive Uganda's development agenda. Over the last three Financial Years (2019/2020, 2020/21 and 2021/2022), government appropriated 79 Billion Uganda Shillings to support this Fund. Between the two years, MakRIF has funded a total of 775 projects across all sectors critical for development. In the next Financial Year (2022/23), Makerere University expects to receive about 30 Billion Uganda shillings (about US$ 8.1 million) under the Government Research and Innovation Fund (RIF). Of this, at least 3 Billion Shillings will fund PhD research ideas that generate knowledge that addresses national development priorities. The Makerere University Research and Innovation Grants Management Committee (GMC) therefore announces the RIF Round 4, Track 2 (PhD Research Grants). Available funds are obligated for the Financial Year 2022/2023, with an expectation of actionable results that speak to the National Research and Innovation Agenda. The GMC therefore invites applications from PhD students with original research ideas that demonstrate a clear link to key thematic areas of the National Research and Innovation Agenda.
This is a closed call that is open to only PhD students. This funding call is specifically targeted to PhD students that are full time at Makerere University.
Grant amounts and estimated number of awards: The GMC estimates to award the following number and amount of PhD Research Grants:
| | | | |
| --- | --- | --- | --- |
| Category | Amount per award | Approximate Number | Total amount |
| Category 1: Arts and Humanities | Up to 25,000,000/= | 50* | 1,250,000,000/= |
| Category 2: Sciences | Up to 35,000,000/= | 50* | 1,750,000,000/= |
| Total | | 100 | 3,000,000,000/= |
*Note: The numbers shown are only indicative. The MakRIF GMC reserves the right to adjust the numbers based on the quality of the proposals submitted.
Applicants should take into consideration the following:
Given that the MakRIF funds are received on an annual basis, and are tied to a specific financial year, the current grant only commits to funding the awardee for a period of one year. This award therefore covers one financial year.
However, the MakRIF GMC is cognizant of the fact that PhD research often spreads over more than one year in which case it requires multi-year funding. Because of this reality, PhD students who are funded under this round will be eligible for extension funding in the following financial year. Second year funding will not be automatic but will be conditional to the following: 1) Availability of funds, 2) Showing cause as to which additional areas of research will be covered in the second year of funding, 3) Successful execution and completion of all the objectives for Year 1 funding, evidenced by full submission of the required deliverables; 4) Full technical and financial accountability for all the funds given to the researcher during the current year of funding. Students would have to apply for the follow-on funding through the next year's PhD Research Grant call.
The GMC recognizes that the amounts indicated for this award may not be sufficient to cover all the necessary costs for a student's project. In such cases, the award should be considered as a contribution and the students should mobilize additional funding to bridge the resource gaps.
The number of awards indicated are only estimated and the GMC retains the discretion to determine the amount and number of awards based on the actual funding that MakRIF funders will make available and the number of quality proposals submitted.
Scope and Technical Description of the Research and Innovation Grant
The GMC conducted a comprehensive stakeholder consultation to identify priority thematic areas of interest for national development. The GMC triangulated this information with that from the National Development Plan III, the Makerere University Strategic Plan and Research Agenda to develop an instructive MakRIF research agenda that responds to national development priorities. The RIF Round 4, Track 2 (PhD Research Grants) will therefore specifically target research and innovation projects that align with priority thematic issues in the MakRIF instructive Research Agenda under 14 thematic areas as follows:
Theme 1: Transforming the Agricultural sector to drive development
SDGs targeted: 2,1,3
The overall aim of the Sector is to increase national income from agriculture as the backbone of the economy, ensure household food security and promote household nutrition from sustainable agricultural production, effective value chains and fair trade. The sector is seeking solutions that boost the transformative potential of agriculture for Uganda's economy. Specifically, the grant is seeking ideas in the following sub-themes:
Priority sub-themes
The sector seeks solutions to cost-effectively increase agricultural production of both regular food and cash crops (cereals, legumes, milk, bananas, coffee, cassava etc.), animal products (meat, dairy and poultry) and high value outputs (horticulture, aquaculture, high value crops). Solutions could include improved affordable technologies or approaches to production, plant and animal breeding for better disease, pest and drought resistance, affordable approaches to disease control, novel affordable animal feeds, novel approaches to agricultural water resource management and optimization during dry spells, affordable irrigation technologies, soil management and sustainable fertilisers, affordable mechanisation for modernisation of production. Solutions could also involve natural/herbal/organic approaches to pest/disease control
Innovations in post-harvest handling and improvement of phytosanitary conditions of produce to reduce post-harvest losses but also ensure safety in the use of chemicals agricultural chemicals and drugs are needed as are approaches to reduce post-harvest losses/wastage (e.g. in the grain and poultry industries).
Post production, the sector is seeking novel affordable approaches to local value addition to agricultural produce including novel affordable technologies for local produce processing and data driven approaches to value chain analysis.
The sector needs solutions on Increasing the mobilisation, access and utilisation of agricultural finance
The sector needs solutions on Increasing market access and competitiveness of agricultural products in domestic and international markets
Theme 2: Achieving Sustainable health as a means to sustainable development
SDGs targeted: 3,1,6,10
The solutions targeted in this sector mainly aim at achieving universal health coverage through sustainable health measures. A healthy population not only reduces the strain on household and national resources but is the driving force for economic development. The sector also acknowledges that many determinants of health are placed in other sectors, thereby necessitating a cross-sectoral approach. Evidence is needed on new measures to reduce the burden of preventable diseases, but also increase the quality of life for the population through health. Specifically, proposals are sought under the following sub-themes:
Priority sub themes
The sector needs solutions on how to prioritise countrywide vaccination to mitigate the impact of COVID-19.
There is a need for research on increasing the capacity to combat communicable and non-communicable diseases and reduce the pressure on our health systems.
We need ideas and solutions to fast-track the development of a National Health Insurance Policy.
There is a need for novel ideas on how to fast-track virus research and domestic production of human and animal vaccines in Low and Middle Income countries. New biotechnology products for early characterization, diagnosis and pre-emptive screening for deadly threats as well as just-in-time vaccine development capacity for new disease strains are necessary. Tools and approaches for better surveillance and improved public health response to emergencies are pertinent.
Research is needed to develop scientifically accredited indigenous medicines since evidence shows that about 70-80% of Uganda's population still rely on traditional medicines for their Primary Health Care.
Theme 3: Re-imagining Education to unlock capacity for economic development
SDGs targeted: 3,8,5,10
Education is the driving force for capacity development to develop the skills necessary to drive enterprise and innovation. The main expressed need of the sector is how to leverage the advantages of Uganda's demographic dividend by providing education that imparts skills crucial for productivity in the 21st Century and for the world of work. The priority subthemes for the sector are laid out as follows:
Priority Sub-themes
Research and innovations are needed to generate solutions and recommendations on how to best restore education to normality and attain pre-COVID-19 levels of access to education.
Research on ways to increase education participation of girls, refugees and other vulnerable populations is also needed, including keeping children in schools (especially the girl-child), incentivizing parent participation in supporting the welfare of children in schools. Research that elucidates approaches for increasing the utility of higher education in improving performance of the private sector and industry is much needed. Given that the education sector is at the cross-roads for influencing many other SDGs in other sectors, evidence is needed on better models for integration of sector needs into formal education processes.
Research and Innovations on how to Improve the productivity of the labour force through strengthening skills development.
Theme 4: Water, sanitation and the environment: A pre-requisite to sustainable development
SDGs targeted: 6,3,12,13
The main aim of the sector is to increase access to safe water for domestic use and water for production, and to safeguard the environment through sustainable development approaches. This is in a context where inadequate coverage with safe-water sources and water stress from recurrent dry spells abound leads to a high burden of sanitation related diseases, but also recurrent agricultural losses due to insufficient water. There are major gender disparities in the consequences of access to safe water. The sector seeks solutions under the following sub-themes:
Priority Sub-themes
Research and Innovations to ensure safe water supply systems in rural areas in order to increase the number of water point systems and promote appropriate sanitation and hygiene technologies.
Research and innovations to promote commercial tree planting.
Research and innovations addressing wetland encroachment and restoration of wetlands.
Theme 5: Harnessing the social sector, culture and arts to drive development
SDGs targeted: 8,10,5
The most pertinent challenge faced by the country regarding social development is youth unemployment partly driven by lack of job and lack of skills. Other challenges relate to a lack of community agency to drive self-reliance as well as socio-cultural disparities that drive marginalisation of some populations. Solutions are requested in the following subthemes:
Priority sub themes
Research into ways to complete the implementation of the PDM as a delivery strategy for transitioning households out of the subsistence to income economy.
Research that aims at strengthening the Supervision of SACCOs including those formed under the EMYOOGA program and Parish Development Model (PDM).
There is a need for research that will equip and operationalize community mobilisation and empowerment (CME) institutions and structures for effective citizen mobilisation and dissemination of information to guide and shape the mind-sets/attitudes of the population.
The sector requires evidence on how to stimulate jobs from a predominantly informal economy and also how to rapidly skill the youth to meet the needs of the job market (including soft and hard skills).
The sector needs novel approaches to leveraging the creative arts as a force for development, a source of jobs for youth and as a source of increased contribution to the country's revenue.
Solutions are needed to reduce the marginalisation gap faced by vulnerable groups in society. Research is needed on how to overcome gender barriers to the advancement of society including gender-based violence, gender and ageing, and mainstreaming of gender into operational plans.
Solutions are needed on how to strengthen the role of the state to take on a more active role in development; development of a National Employment Strategy, in a process that will be consultative and reflective of the country's characteristics.
Theme 6. Harnessing Tourism, wildlife and heritage for development
SDGs targeted: 15,14,13,8,1,12
Uganda's tourism sector is growing and the country is well positioned to be the leading tourist destination for the region. However, much more still needs to be done to unleash the county's untapped tourism potential which is much higher than it is currently, and which can be a major source of revenue. Research and innovations are sought in the following priority sub-themes:
Priority sub-themes
Innovations to sustain upstream investment in ongoing product development and tourism-related infrastructure.
Ideas and solutions to Increase access to tourism recovery financing.
Research is needed on approaches to boost Uganda's current tourism potential by increasing visibility and demand for the available tourism products. Solutions are also needed to reduce the cost of accessibility to Uganda's tourism destinations, novel ways in which local communities can benefit from local tourism, and how to increase domestic tourism by Ugandans.
Innovative ways to hire and deploy market destination representative firms in key markets.
Solutions are also needed for better wild-life conservation to protect the country's wild-life diversity. Evidence of better approaches to wild-life disease management and epizootics is also needed. The sector also needs new tools, technologies and approaches to eliminate illicit trade on wild-life products. Management of human-wildlife conflicts in districts hosting/surrounding conservation.
Theme 7: Sustainable Planning, finance and monitoring as catalysts for growth
SDGs targeted: 1,8,11,12
Planning and finance are key cross-cutting sectors affecting development. Successful attainment of development goals need adequate monitoring of national plans as well as sustainable financing methods including a progressive tax base. Solutions are needed in the following sub-themes:
Priority Sub-themes
The sector expressed the need for research and innovations that foster effective implementation of the National Development Plan and the Vision 2040. They need novel tools for collection of routine data from informal sectors of the economy including crowd-sourcing of economic data as well as mining and visualisation of big data to predict economic trends. Tools that support dynamic tracking of development initiatives and geo-location of development projects are welcome. There is also a need for new approaches for increasing the ability of communities to demand for better accountability from public programs.
The sector needs research and ideas to implement the Government financing strategy including investing the short-term surplus cash, rolling out the use of Mobile money platform for Ugandans to invest in Government Securities, develop a system that will facilitate the Diaspora to invest in government securities and continue exploring new financing options enshrined in the Government of Uganda financing strategy
Research is needed on how to operationalize the National Development Planning Research Agenda aimed at increasing the participation of non-actors in planning and budgeting; and citizen participation in Local Government Economic Development (LED).
We need solutions on implementation of the Domestic Revenue Mobilisation Strategy aimed at raising the contribution of domestic revenues by 0.5 percentage points of Gross Domestic Product each Financial Year; and fast-track the activities of Extractive Industries.
We need solutions to support the preparation of the pre-feasibility and feasibility and value chain studies in priority NDP III projects or areas.
Novel solutions are needed to sustain the efforts geared towards analysing and negotiating for cheapest financing options available to reduce the cost of borrowing.
Research is required on how to widen the automation of all systems in Government over the medium term. These include interfacing the Programme Budgeting System (PBS), Electronic Government Procurement (e-GP), Integrated Personnel and Payroll System (IPP), Fixed Asset module, Debt Management and Financial Analysis Program (DMFAS), Automated Information Management System (AIMs), Integrated Bank of Projects (IBP), Case management system among other systems.
Strengthen Integrated Debt Management function through specialised training, Debt data Reconciliations /validation, Missions to bilateral creditors, and workshops and team building activities aimed at improving data integrity.
Research is needed on innovative ways of enforcement of Standards for all Tier 4 Microfinance Institutions and Money Lenders under Uganda Microfinance Regulatory Authority.
Theme 8: Leveraging public service and local administration for efficient service delivery
SDGs targeted: 12,8,16,17
The mandate of the Public Service sector is to deliver effective and efficient social services to the people in a way that effectively reaches the last mile with a professional and competent civil service. The sector seeks solutions in the following sub-themes:
Priority Sub-themes:
The sector expressed the need for better tools and approaches to ensuring an efficient civil service that is accountable to the people in implementing government programs. Furthermore, there is a need for approaches to digital transformation of public service delivery including strengthening of e-governance for better efficiency. Evidence is also needed on how to better account for public servants' time, especially in peripheral service delivery workplaces and how to ensure better provision of value for money.
There is need for research and evidence on better approaches to engagement of communities to mobilise them for development initiatives in ways that contribute to self-reliance and ways to optimise the use of digital identification to improve accountability and citizen services.
Research is needed on how to develop and operationalize a digital/online content repository for information on Government of Uganda's programs and projects.
We need solutions on best practices for implementation of the Parish Development Model as a delivery strategy for transitioning households out of the subsistence to income economy.
Theme 9: Defence and security: Achieving sustainable peace and stability
SDGs targeted: 16
The defence and security sector has the mandate to ensure peace, security and the rule of law for citizens. A stable and secure country is not only crucial for economic investment but is key to a good quality of life for the citizens. This is coordinated through the armed forces, and other support systems for a secure country. The sector seeks research and innovation ideas in the following sub-thematic areas:
Priority Sub-themes
The Sector has an interest in research and innovation outputs that improve the livelihoods of the men and women in uniform. Areas of interest to combatants' livelihoods include: Strategies for addressing gender-based violence among combatants' households, establish regional Command centres and toll-free lines to ease reporting of violent crimes including women murders and Kidnap cases thus strengthening people centred delivery security, law and order services, addressing post-traumatic stress disorder, improving food-security for combatant families and re-imagining the food rations for active combatants. The Sector is also interested in solutions that lead to better livelihoods for veterans of the armed forces including sustainable models for their economic empowerment.
With the increase in conflict in our border countries, the sector needs solutions to enhance security and peace through coordination with other actors at national, regional and international levels.
We need solutions to strengthen the promotion of downward accountability through public empowerment for anti-corruption.
Reinforce investigation and prosecution of corruption cases before courts of law; Combat money laundering and recover illicitly acquired assets.
A few years after the roll out of the CCTV project to control crime and maintain peace and security, there is a need to establish the efficiency of the project and identify gaps for improvement in identifying black spots in other parts of the country.
Research is required on how to enhance the deployment of Intelligence Officers in the areas with heightened crime and Night deployment of both foot and motorised patrols in the crime prone areas.
There is a need to strengthen community engagement for crime prevention through the community policing model of neighbourhood watch, popular vigilance LC I and intelligence-based investigations.
Increase the use of technology by automating processes and systems to expedite investigations and prosecution of corruption cases
Theme 10: Strengthening law, governance, human rights and international cooperation as prerequisites for development
SDGs targeted: 16,17,10
This sector is vested in ensuring that justice is accessible to everyone, and that democracy and protection by the law are ubiquitous. The sector also seeks to ensure adequate protection of human rights. The diplomacy sub-sector aims to promote regional and international cooperation for peace and mutual development. Solutions are needed in the following sub-thematic areas:
Priority Sub-themes
Research is needed on how to strengthen implementation of existing case management reforms such as Mediation, Plea Bargain, Small Claims Procedure, Case Backlog Reduction Strategy, child-friendly procedures, automation of Court processes, daily hearings of criminal cases in the High Court.
Ideas are also needed on how to apply emerging technologies (e.g. digital technology, artificial intelligence and big-data) to improve the process of delivering justice. Approaches to increased use of ICTs in the courts are also needed.
As the Government seeks to equip all the 53 border stations, 6 regional offices and 19 missions abroad with all hardware and software, e-immigration system consumables and e-immigration system roll-out peripherals, there is need to develop curriculum/guidelines on how to continuously build capacity of the staff in these offices
Research is needed on how to upgrade and roll out the e-passport system and e-immigration system to all Ugandan missions abroad to enable complete and free movement of citizens across the country.
The sector needs evidence on how to undertake research studies to enhance evidence-based legislation. The studies will help to uphold the universal principles of human rights, gender equality, and the aspirations of the Sustainable Development Goals. The sector needs ideas on how to build capacity of Local Government Officials on the drafting of Ordinances and Bye laws, so as to improve on the pieces of draft legislation from Local Governments.
Theme 11: Harnessing Information and Communication Technology to drive development
SDGs targeted: 9,8,10
Information and Communication Technology is a cross-cutting sector that supports other sectors. The sector provides a backbone for communication to support service delivery but also promotes the use of ICT tools for more efficiency. The Sector is in the process of building an ICT backbone to support other sectors and to facilitate economic transformation. Research and innovations are needed in the following sub-themes:
Priority sub-themes
The sector would also like to increase capacity for use of data (including big data and artificial intelligence) for development including fore-casting, planning, monitoring of programs and for development of applications that can improve service delivery. The sector would like innovations that increase the capacity of other sectors to develop and use electronic records such as the flagship e-services and rolled out e-services across all NDPIII programs (e.g. eGP, iHMIS, PBMIS).
The sector would like to expand the innovative use of digital media and emerging technologies in economic activities and professional service delivery (e.g. mobile phones, drones, nano-technolology, and robotics).
There is a need for research on how best to coordinate and implement the cyber security strategy and create awareness and sensitization on the Data Protection and Privacy Act and other cyber laws.
Evidence is required on how best the Government can collaborate with the private sector and partner in the development of local assembly plants to foster manufacturing, and Production.
We need information on how best to coordinate the implementation of the National Strategy on 4IR, including but not limited to awareness campaigns on 4IR opportunities and risks
Theme 12: Works, manufacturing, science and technology as tools to accelerate development
SDGs targeted: 9,11,13,10
The works Sector is a services sector that supports other sectors through infrastructure development. The sector also includes the industrial and manufacturing sub-sector which is the engine for national development. The sector therefore relies on technology, investments in industrial development and a major national focus on industry driven economic transformation. Evidence is needed in the following priority sub-themes:
Priority sub-themes
There is a need for innovative solutions to sensitise farmers/producers on trade procedures and standards with emphasis on exporting and supporting the refurbishment of storage facilities.
There is a need for innovative solutions to improve the quality and standards of products manufactured in Uganda and expand the services of Uganda National Bureau Standards.
There is a need for research and innovations on the establishment of Border Export Zones at key strategic border points to increase cross border trade.
Research and innovations to enhance value addition and industrialization.
Research and innovations to inform development of regional science, technology and innovation policies; promotion of scientific knowledge, technology advancement and innovation; strengthening support towards the application of science technology and innovation for socio-economic development.
Research and innovations to enhance implementation of integrated physical and economic development in new cities.
Theme 13: Solutions to catalyse business and enterprise
SDGs targeted: 1,8,9,12
The business sector drives the economy. Uganda is ranked as the most entrepreneurial country in the world and the majority of start-ups and businesses are informal. However, the rate at which new businesses fail is high. Innovations are needed to develop a robust business sector that can survive strong economic head-winds to create a sustainable economy.
Priority Sub-themes
Research and innovations on supporting and promoting local content and building capacity of local providers to compete favourably in public procurement and enforcing the Implementation of the Guidelines on Preference and Reservation Schemes, implementation of the existing local content policy, and other related legal and institutional framework.
Research and innovations to harmonise Legal Metrology procedures and processes in accordance with EAC and other Regional Agreements to minimise Non Technical Barriers to trade.
Research and Innovations to expand the existing scope for accreditation to ensure recognition of UNBS certification services, testing and metrology services, as well as inclusion of Imports Inspection, market surveillance and Legal Metrology.
Research on the legal reform process to strengthen the current Free Zones scheme to accommodate Special Economic Zones in order to attract a wider range of export oriented investments.
There is need for research that will provide evidence on priority enterprises in every parish; in order to inform the Parish Development Model Enterprises.
There is need for research to support the private sector to create jobs in the key growth areas.
Theme 14: Energy and Minerals as drivers of rapid economic development
SDGs targeted: 7,1,8,12
Energy drives production in the economy while minerals are a source of wealth that can accelerate national development. There is a need for more innovations in the energy and mineral sector as a direct link to increased revenue and jobs. Solutions are needed in the following priority sub-themes:
Priority sub-themes
Research and Innovations to increase deployment of new renewable energy solutions
Research and innovations to maintain existing investments in exploration and quantification of mineral wealth.
Research and innovations to organise, formulate and regulate artisanal and small-scale miners.
Research and innovations towards development and implementation of an incentive regime for actors in the priority mineral value chains
Research and innovations to support Establishment of Quality Management System for oil and gas operations considering gender and equity aspects
The MakRIF PhD Research Grants will cover all technical disciplines in Makerere University as long as the research questions align with the instructive research agenda themes above. Particular attention will be paid to ideas that have clear potential for scalability to drive development.
Note: This grant covers the coasts of research. It does not cover payment of tuition or living stipends for the PhD students.
Eligibility
The PhD research grants will only be open to PhD students who have been approved for full registration at Makerere University. Students who have already received full scholarships under other award programs are not eligible to apply for these grants as this will constitute double funding. Members of Academic staff who are not on the Makerere University Staff Development Program, as well as those who are on the Staff Development Program but received only a tuition waiver without research funding are eligible to apply, provided they do not have full funding for their research from elsewhere. This funding is only open to Makerere University students. PhD students registered in other universities are not eligible for this funding. Further specifications on the awards are as follows:
Applicants must be at a stage where they have been approved for full registration as PhD students at Makerere University. Being at the stage of full registration means that they have developed a full research proposal that has been approved by the respective Higher Degrees Research Committee in their academic unit, and that they have been have been recommended for full registration OR are fully registered by Makerere University. Applicants will be required to provide evidence of one of the following: Minutes of the Higher Degrees Research Committee in their Academic college, showing approval of their research proposal, OR a full registration certificate.
Because the research funds are provided for one year funding cycles, PhD students with provisional registration will not be eligible for funding under this award since the time required for them to complete full proposal development and to start data collection is unlikely to fit within the financial year.
These grants are limited to PhD students who do not have prior funding for their studies or whose funding is inadequate to cover their research. Applicants in the latter category must make full disclosure of their other funding sources and what they cover.
Applicants should provide a letter of support from any one of the following: 1) The Head of their Department, or 2) The Dean of their School, or 3) the Principal of their College (Only one of these is sufficient).
Applicants should provide a letter of support from one of their Supervisors within Makerere University. The letter should clearly indicate that they do not have other funding that fully covers their research/training activities, or where such funding is available, they should indicate what aspects of the student's study program it covers and the funding gap. The supporting Supervisor will be designated as a co-Investigator on the research project.
GRANT GUIDELINES
MakRIF PhD Research Grant applicants will submit a competitive project proposal for the available funding. The proposal ought to specify the objectives for the full research project. It should also indicate which of the full research objectives will be specifically met by the available funding for this financial year.
Students intending to apply for multi-year funding in the subsequent years will be required to indicate so. In such cases, the students should indicate which study objectives would be covered by the extension funding.
The research problem: The proposal should clearly articulate the knowledge gap that the researcher targets to address, and why it is important to address this knowledge gap. The research problem should be aligned to at least one theme in the MakRIF research agenda.
The proposed solution: PhD Researchers should present the proposed solution in form of the research focus for the current phase of the funding. They should clearly articulate the objectives of the planned research. Researchers should also describe the critical content of the solution (i.e., the 'research methodology'). Researchers should defend the relevance of the proposed solution to addressing key development outcomes in the respective sector and its alignment to one or more thematic areas specified in this call. Researchers should also demonstrate that at least one objective of their research project is implementable within one (1) year and will result in tangible results within one year of execution.
Research projects that require multi-year implementation will only be considered if they can show actionable intermediate results or objectives attainable within 1 implementation year, since funding will be on a yearly basis. Apart from a summary of the proposed approach, researchers will provide a more detailed description of their technical approach (research methodology) to enable a robust assessment of the rigor of the proposed methodology.
Outputs, outcomes and impact: Researchers should articulate the overall scientific outputs, outcomes and anticipated impact of the PhD research project. They should state the primary (Direct) and secondary (Indirect) beneficiaries of the planned research project. They should state the anticipated outputs (the outputs of the activities of the entire project as well as the specific milestones to be attained with the one-year funding) and the outcomes (both the outcomes of the entire project and those for the current funding phase). Researchers should also state the anticipated impact of the the project (Note: Impact might not be achievable in one or even a few years in which case the current phase only contributes to it). Since this funding is specific to the current financial year, projects must demonstrate clearly the deliverables they expect within one year, matching the level of investment made and attainable in the 1-year timeframe. Multi-year projects should show clearly what will be achieved in the current year of funding as well as what would be achieved overall when the full PhD research is completed in the subsequent years.
Translation and dissemination for impact: Since this fund is aimed at supporting government and its partners to improve service delivery and to accelerate development, researchers should show a clear plan for disseminating their findings to audiences critical for policy and program change so as to achieve impact at scale. This will include a clear description of the knowledge translation and dissemination plan to stakeholders in the relevant sectors including the knowledge products anticipated to arise from the study (e.g., publications, policy briefs, knowledge briefs, etc.). Innovation-based projects should articulate a scaling strategy, including linkage to scaling partners within the industry (for commercially viable enterprises), or within the relevant public sectors (for innovations targeted to the public) or within relevant implementing agencies (for social enterprises). Innovations targeting commercial interest should demonstrate the anticipated commercial potential, anticipated demand, anticipated patents/copy-rights/industrial design claims/trademarks if applicable and the path to commercialization. Innovations targeting social impact (social innovations) should elucidate the path to wide scale community uptake.
Ethical implications: The implications of the research to human subjects, animal subjects and the environment should be articulated where necessary including how key ethical or environmental concerns arising from the study will be addressed. It is anticipated that at the time of full registration, projects requiring ethical approval will have already obtained that approval from their respective ethics committees.
Budget: Researchers will prepare a summary budget for the one-year phase of their project as well as a detailed budget. Budgets should be submitted in the official currency (Uganda Shillings). Because these are university funds, academic units (Departments, Schools and Colleges) will not charge institutional overheads to any of the research funds. Budgets should not spread beyond one Financial Year. Even if the projects to be funded under this mechanism are multi-year, researchers should provide a budget for only one Financial Year. The budgets will include the following sections:
1.0 Personnel costs
2.0 Travel
3.0 Supplies and services
4.0 Equipment
5.0 Program activity costs
6.0 Dissemination
Under Personnel costs, applicants should not budget for 'Salaries' for staff who are paid a salary by Makerere University or another Government of Uganda institution (whether on permanent or contract terms) as this would constitute double payment from government funds. However, such researchers can budget for 'activity-based' time input or 'level-of-effort-based' costs for their additional time input into the project in form of allowances. The latter should be justified by specifying the extra-time demands from the project for each individual involved.
Researchers can budget for salaries for critical project staff that are not paid by Makerere or the Government of Uganda e.g., Project Coordinators, Administrative Assistants, Research Officers etc. Regular Personnel costs excluding field research assistants should not exceed 33% of the budget. Field research assistants (or Data collectors) if needed should not be included under 'Personnel costs' but should instead be included under 'Program Activity Costs'. All salaries and all repetitive allowances will be subject to mandatory statutory deductions at source, to pay the relevant taxes. Because these funds are earmarked to support actual research, PhD students cannot budget for a monthly stipend under this award.
In addition to the summary budget, research teams will be required to attach a detailed budget (As an MS Excel attachment) that breaks down all expenditure line items, inclusive of a budget justification that explains the rationale behind the different budget items. The total budget in the budget summary should exactly match that in the detailed breakdown. You should budget within the category that your project was funded in RIF-1. Budgeting in another category will lead to disqualification. The total budget should not exceed the highest amount indicated for the respective funding category in which your project lies. Exceeding the indicated category maximum can result in disqualification.
PhD Researchers can also budget for Tuition.
Workplan: Researchers will provide a list of key milestones for the project clearly demonstrating the deliverables expected at each point during the extension phase of the project. These milestones will be used as the basis for tracking implementation of activities towards project goals and outputs. Given the one-year time-frame for the awards, it will be important that researchers commit to a clear time-bound set of deliverables all achievable within one year for the main deliverable targeted during the current period of funding. Failure to articulate a one (1) year plan will imply inability to utilize the grant funds within one (1) year
GRANT PROCESS
Submission of applications: Submission of the applications will be online at http://rif.mak.ac.ug/portal All submissions must be online and must be made within the stipulated period. To access the application form, the PhD Research Fund applicant will be required to create a MakRIF account. In your account, select the appropriate funding opportunity and fill out the application form.
Rules governing applications: All applications should be written in English. All applications should be submitted via the online portal mentioned above. Complete applications must be submitted not later than 11.59pm East African Time on the closing date. No submissions after closure of applications will be accepted. Any attempt at solicitation of acceptance beyond this date will not be entertained. The Grants Committee bears no responsibility for submissions that are not completed in time and incomplete submissions will not be considered. If none of the submitted applications meets the requirements to receive a grant, the call may be reopened at the sole discretion of the Grants Management Committee. An individual researcher should not submit more than ONE application.
Participants agree to assume any and all risks, and to waive claims against Makerere University and the Grants Management Committee for any injury, death, damage, or loss of property, revenue, or profits, whether direct, indirect, or consequential, arising from their participation in this grant implementation.
Evaluation and selection of projects: Applications will be reviewed by the GMC. Submission of an application does not mean the project must be funded. The GMC will evaluate five main aspects of the project:
The alignment of the proposed research to national priorities as stipulated in the MakRIF research agenda
Clear articulation of the knowledge gap and how the planned research will contribute to building new knowledge
Quality of the proposal in terms of the relevance and innovativeness of the proposed solution, the planned activities and the articulation of a sound methodology
Clear stipulation of outputs and outcomes and feasibility of tangible achievements within one year of funding
Potential impact and transformativeness of the proposed research idea
Submission of a realistic budget
Notification of successful applicants: Successful applicants will be informed by email to their designated point of contact.
Grant timeline:
| | |
| --- | --- |
| Milestone | Date |
| Issuance of RFA | Thur 29th Sept 2022 (Closed to PhD students only) |
| Closing date for applications | Sunday November 6th 2022 |
| Selection | Monday 7th Nov 2022 to 2nd  December 2022 |
| Award notification | Week 2 of Dec 2022 |
| Induction | Week 2 December 2022 |
To submit application, please create an account on https://rif.mak.ac.ug/portal and login to start the application process.